Haikou Guide
Haikou Introduction
Haikou is a fairly large tropical city and the capital of Hainan. It is the business and transport centre of the island and a major port. It is a relaxed kind of place. Expect long breaks around lunch time and for shops to be open till late in the evening. Indeed Haikou is perhaps at its most lively at 10pm in the evening with many people outside along the streets eating, drinking and shopping.
Haikou city has many faces: Palm tree lined streets; modern skyscraper city scapes; traditional chinese Hutongs; bustling fishing ports/markets; and long beaches. As a major city, it has all modern facilities including bars, night-clubs, banks that accept foreign cards, and good transport links.
Wonder along HaiDian river and see the local traditional wooden fishing boats. Head to the east end of the river at around 5pm to see the fish markets. The old town centre retains a fast disappearing part of Chinese history - the Hutong. Spend an hour or 2 here getting lost amongst the winding narrow alleyways and temples of this tradition housing style. Stroll with the locals along the bustling fruit and food stalls on Haidian San Xi Lu in the evening and stop for a snack of 'chao bing'.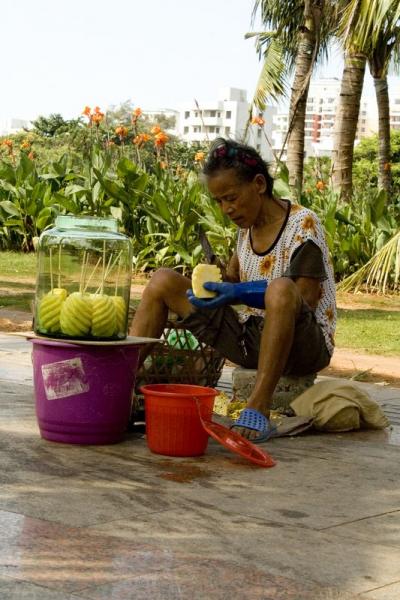 Seafood in Haikou
You can buy fresh seafood, straight off the boat, on Haidian Island under Renmin Bridge. Next to the seafood market are food stalls that can cook the seafood for you.
Another place is the Banqiao Road Seafood Market (板桥路海鲜市场. Pinyin: Bǎn qiáo lù hǎixiān shìchǎng).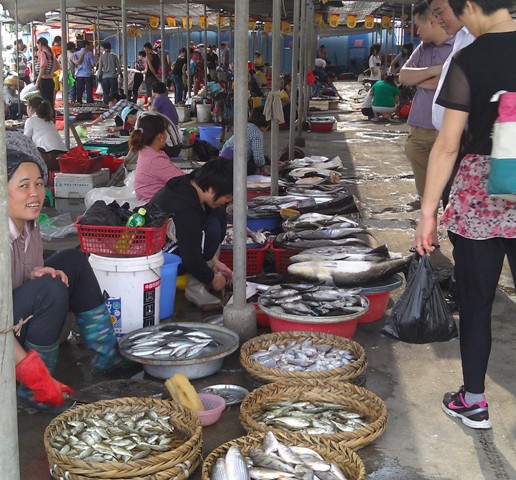 BBQ Food
Haikou City has many outdoor BBQ stalls. If your looking for Western standard comfort and cleanliness these places may not be for you: the outdoor BBQ stalls are usually little more than a few plastic tables and chairs put out on the street.
However, these are one of the charms of Haikou city. The stalls do not exist in the day time, but wait until the sun sets and the temperature drops and at around 9 o'clock in the evening certain streets will come alive with BBQ sights and smells.
To order food, look at what is on display and choose what you want. The method works even if your Chinese is limited. Here are some of my favourite Haikou BBQ dishes:
BBQ fish served with fresh small limes. (Mackerel pike fish, also known as Pacific saury, Chinese: 秋刀魚 Qiūdāoyú)
Skewed lamb sticks.
Whole sweetcorn.
Dried squid with wasabe and soy sauce.
BBQ'ed oysters with garlic.
Chicken wings.
Local beer
The street BBQs are popular with local people and form part of the Haikou nightlife. Many locals drink beer and eat BBQ at these stalls until early morning. Some of the stalls are still open at 4am. It is normal to go eat at a BBQ after leaving a nightclub late at night before going home to sleep.
There are many BBQ stalls within walking distance of Haikou Banana Hostel. Try the corner of San Dong Lu and HaiDa Lu, or Er Dong Lu.
Here is a picture of the Muslim BBQ on Haidian Island, it is on the corner of Haida Road and Erdong Road.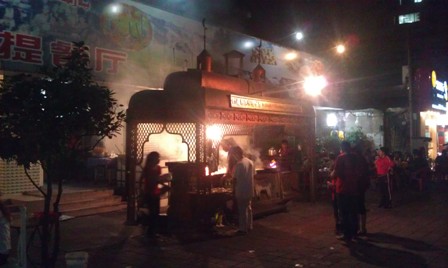 Hainan University South Gate Street Food
If you like to try different street food, you will enjoy this place. Lots of choices of food from all around China. Very affordable.
Chinese name: 海大南门小吃街. Pinyin: Hǎidà nánmén xiǎochī jiē
English name: Hainan University south gate street food
Type of food: Street food. 小吃 (Xiǎochī)
Opening hours: 6pm to 12pm (evening only). At 6pm the road is closed off to cars and becomes Haikou's most famous snack food street.
How to get there: just at the opposite side of the south gate of Hainan university on Sanxi Lu. About 5 minutes walk from the Banana Hostel.
Recommend: qingbu liang, roujia mo, liang pi noodles, freshly squeezed orange juice, etc.
Price per person: 10-20 RMB.
Chinese comments: 超多的各地小吃,绝对可以让你一饱口福,而且价格方面超实惠哦,人均9元人民币足矣。特色推荐:清补凉、炒冰、鸡蛋饼、鲜榨橙汁等等。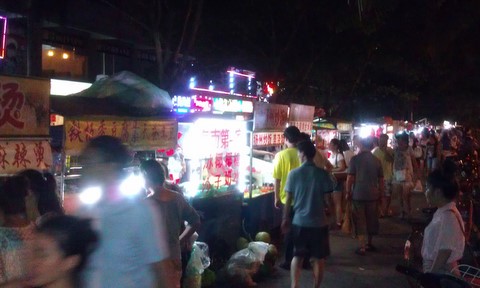 Haikou City has 4 main beach areas:
Holiday Beach (假日海滩 Jiàrì hǎitān)
Xixiu Beach (西秀海滩 Xixiù hǎitān)
Baishamen Beach (白沙门海滩 Báishāmén hǎitān)
Guilinyang Beach (桂林洋海滩 Guìlínyáng hǎitān)
Map of Haikou's Beaches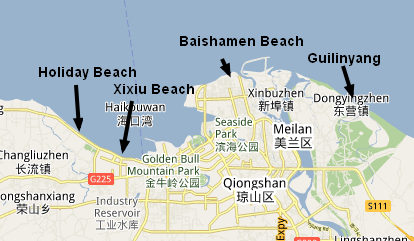 Holiday Beach (假日海滩 Jiàrì hǎitān)
To the west of Haikou city, Holiday Beach stretches for over 10km. This is the main beach in Haikou. In the summer we suggest visiting in the late afternoon to avoid the mid-day heat and staying until after sunset. The central area attracts a lot of locals in late afternoon, but it is easy to escape the crowds, if you wish, by walking a bit further down the beach.
You can swim in the sea and have a go on the jet-skis (15 minutes costs 70 rmb, though your probably have to haggle on the price).
In the main area of the beach there are outdoor street food stalls and places to buy drinks. There is a nice new swimming pool and hot spring, the price starts at 28 RMB for the swimming pool. You need to pay a little bit more to use the hot spring.
To the west of the main entrance there are volley ball nets and an outdoor BBQ area. Bring your own food to the BBQ. You pay around 50 RMB for charcoal and to use the one of the BBQ pits. The BBQ pits can be very popular in the evening with locals and can provide an atmospheric setting: with the smell of good food, many people having fun, and a nice sunset on the palm tree lined beach.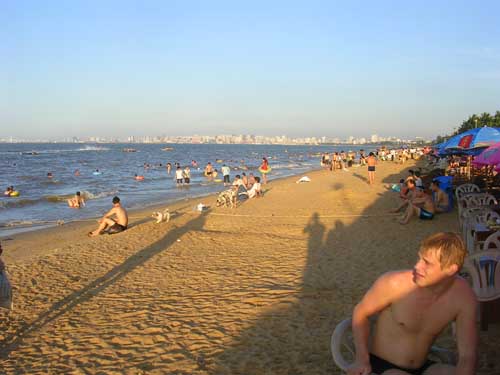 Xixiu Beach (西秀海滩 Xixiù hǎitān)
Closer to the west of Haikou city is Xixiu Beach, which 1-2km further west becomes Holiday Beach. The Hainan Windsurfing and Sailing Association has equipment for rent on Xixiu Beach.
Baishamen Beach (白沙门海滩 Báishāmén hǎitān)
On the north coast of Haidian Island (in the north of Haikou, near to the Haikou Banana Hostel) is Baishamen Park and Beach. The beach is about 1km long and next to where part of the Nandu River reaches the sea. The area was re-landscaped in 2010-2011.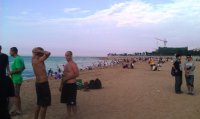 Guilinyang Beach (桂林洋海滩 Guìlínyáng hǎitān)
To the east of Haikou is the beach area of Guilinyang. This is a quieter place than Holiday beach. It is near to the new Jiandong area of Haikou.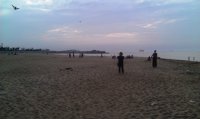 Windsurfing and Sailing
There are more and more water-sports available in Haikou. There is a windsurfing and sailing club on Xixiu Beach in Haikou. Xixiu Beach is just to the west of Haikou city, just before Haikou's Holiday Beach. Windsurf rental prices are 100-150 RMB per day. Tuition is available, but do not expect much spoken English.
Address of Windsurfing and Sailing Club in Haikou:
Xixiu Beach, Binhai West Road, Haikou City, Hainan Province. 地址: 海南省海口市滨海西路西秀海滩公园. Hǎinán shěng, hǎikǒu shì, bīnhǎi xi lù, xī xiù hǎitān gōngyuán. Hainan Sail Organisation: Telephone 与我联系: 0898-68648956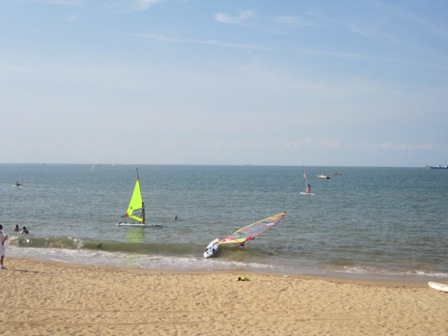 Golf Driving Range
There is a golf driving range at the west side of Baishamen Park
Haikou Thru The Decades
We have collected old photos of Haikou from the internet to show how Haikou has changed over the past few decades. We believe this is the first detailed English language presentation of this information.
The information is divided by geographic location to make comparison of photos easier.
Contents:
Binhai Avenue and Longkun Road
Overview of Haikou city
This photo from the 1970s shows Haikou is little more than the present old town area. The photo was taken looking north to south. In the centre we can see the East Lake. Towards the top of the photo you can just about make out the old Haikou Airport (present day Guoxing Avenue 国兴大道). In the bottom of the photo we can see Haidian Island and Renmin Bridge. At this time the rest of Haidian Island is mainly fields and water.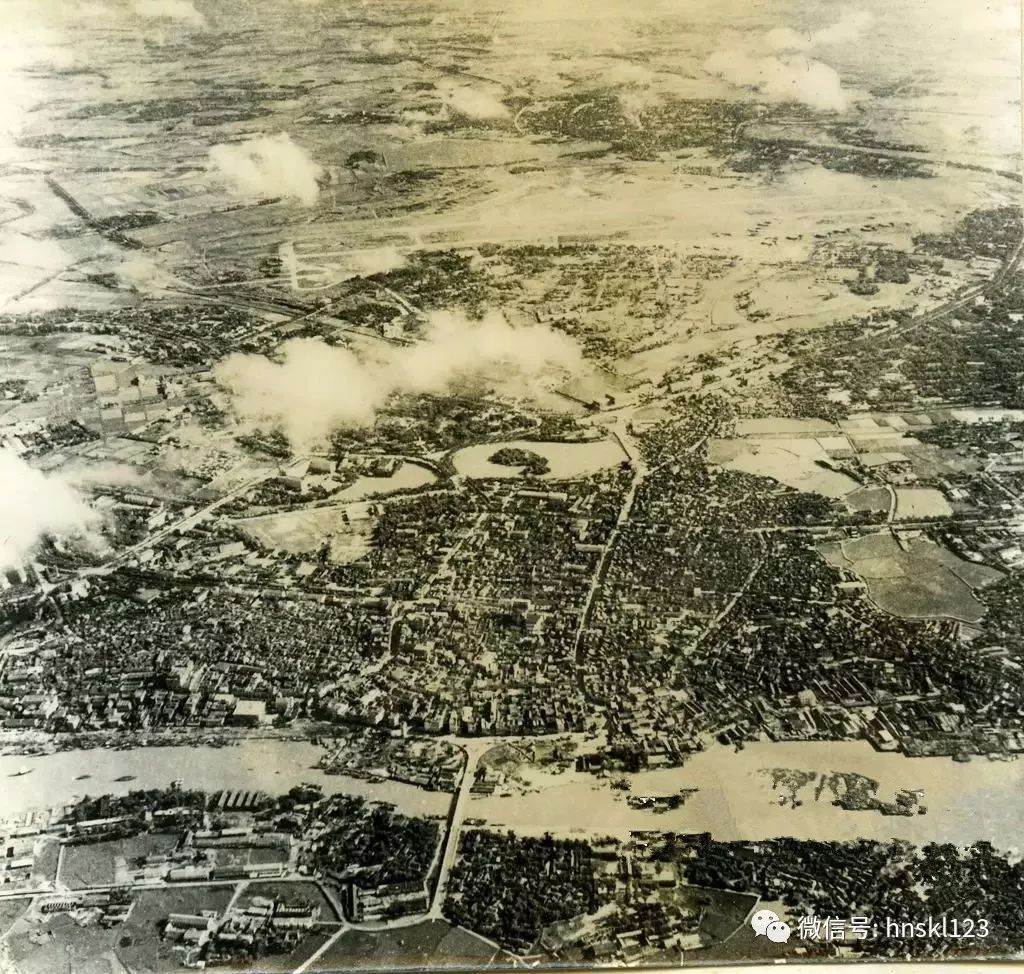 Haidian Island
This photo is from the early 1980s, looking north over Renmin Bridge, across Haidian Island. Renmin road construction has started. Haidian Island is mostly fields, rivers, and a few buildings.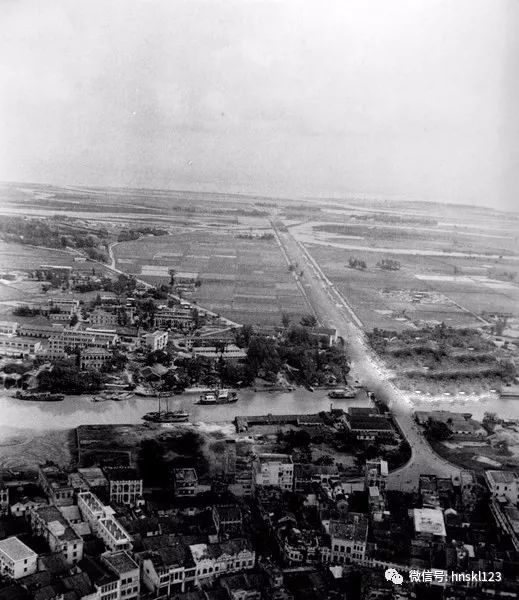 Later that decade in 1987 Haidian Island has changed alot. Haidian Bridge has become a busy road. Haidian 1, 2 and 3 roads have all grown dramatically. Most of present day Hainan University is still water and fields. Haidian 5 and 6 roads still don't exist. Baishamen Park is still along way ahead in the furture, it was built around 2008.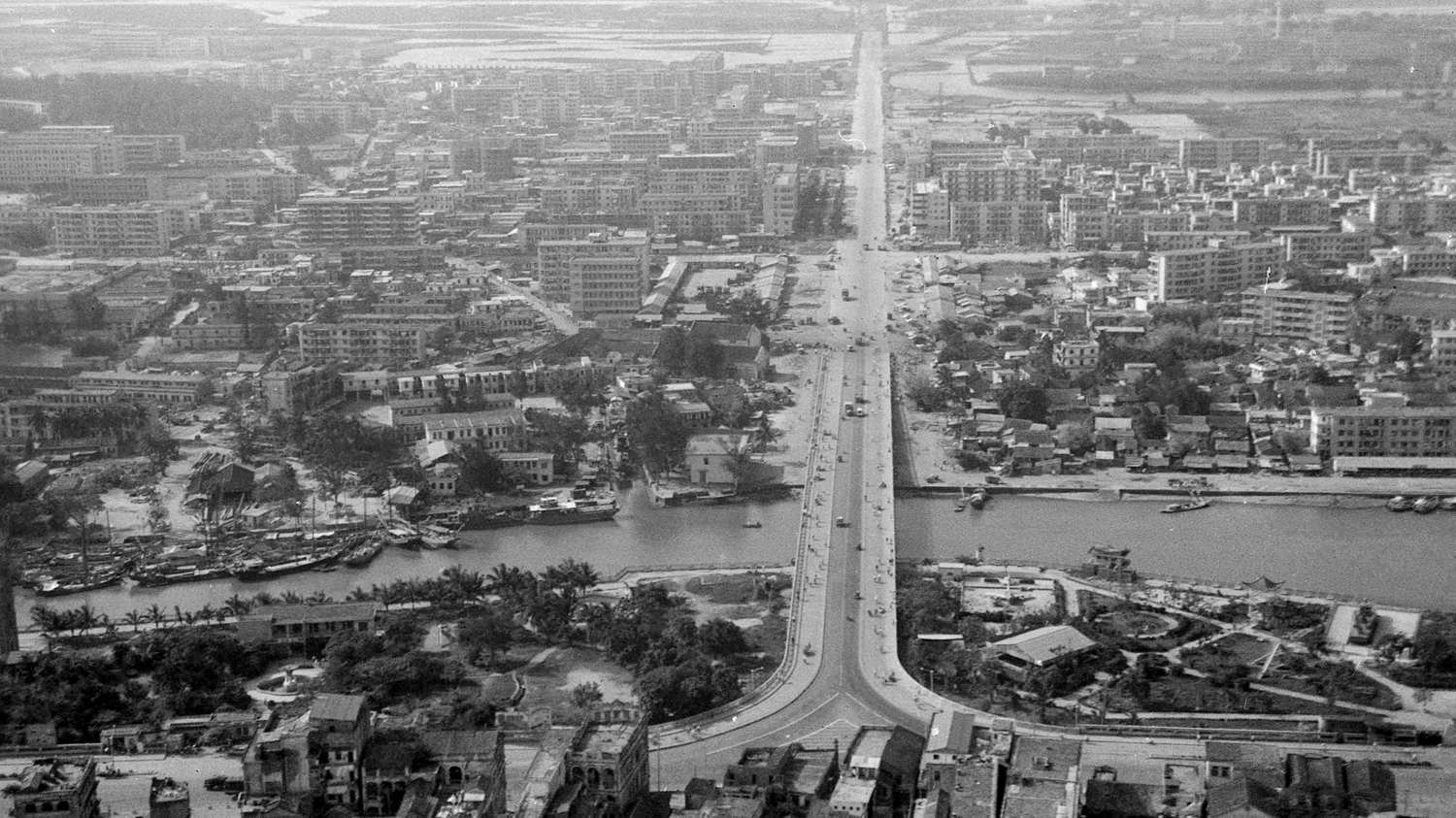 Below we can see a part of the west of Haidian Island in the early 80s. The view is from west to east. The wide road in the top of the photo is Renmin Road. The thin road running horizontally across the photo is present day Renmin West Road 人民西路。The road running vertically down the right of the photo is Haidian 1 West Road 海甸一西路. Haidian 2 road, 3 road etc do not exist yet.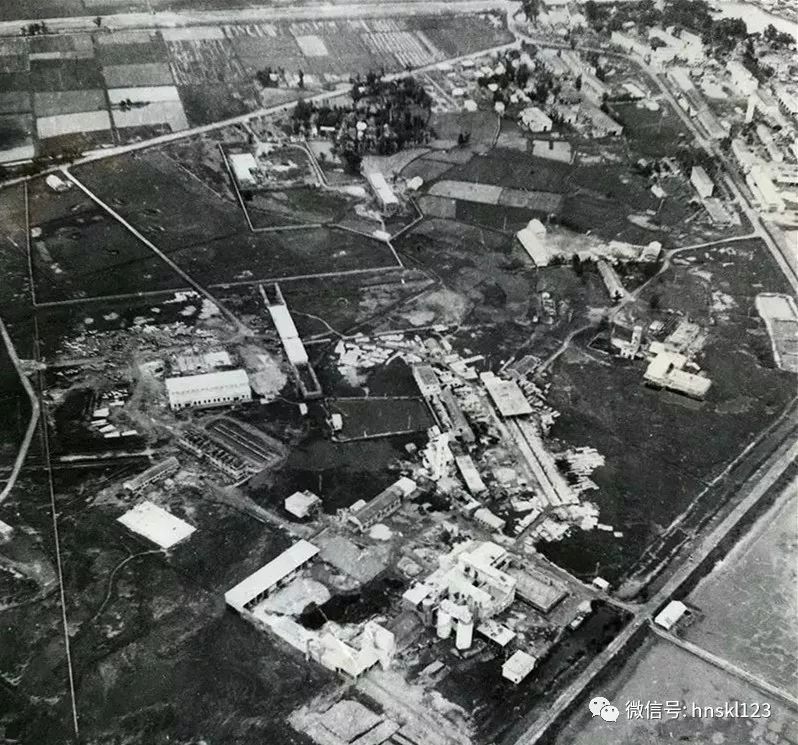 Here is a photo of Haidian Island from the 90s, again looking west to east. Now Haidian 2 and 3 roads are clearly visible running vertically in the middle of the photo. The northern part of Haidian Island, including Hainan University, is still mainly water and fields (left of photo).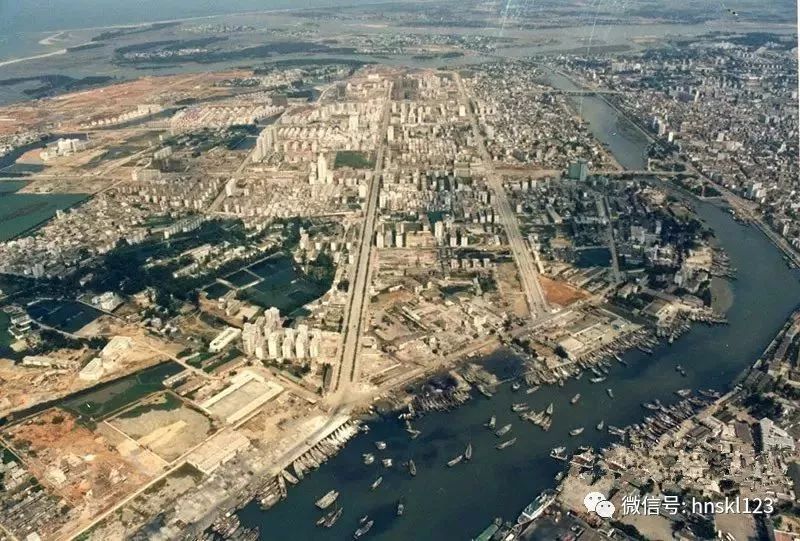 People used to get to Haidian Island by ferry.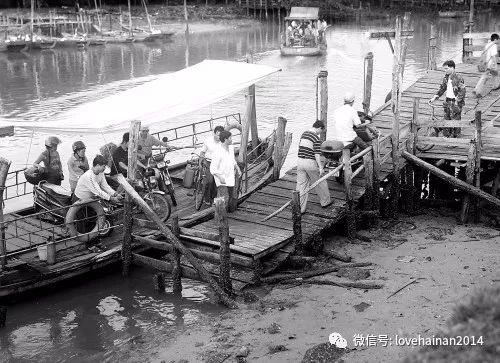 Binhai Avenue and Longkun Road
Binhai Avenue was constructed in 1965 by government mobilized citizens. Originally made from soil, in 1973 it became an asphalt road. Then from 1984 to 1988 it was expanded into a 3 lane road.
This photo from the early 1980s shows Binhai Avenue was very close to the seashore (hence its name, which means besides the sea in Chinese).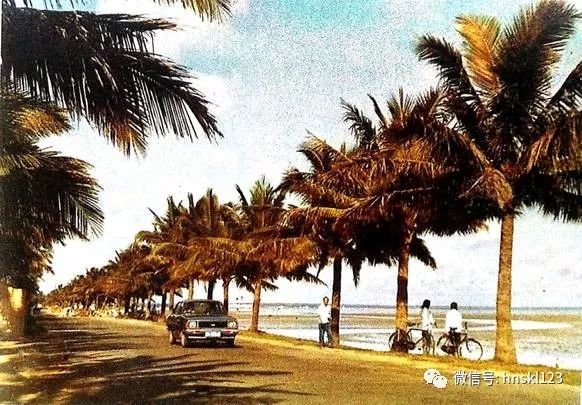 Binhai Ave in 1986. The old airport can be seen in the far right of the photo.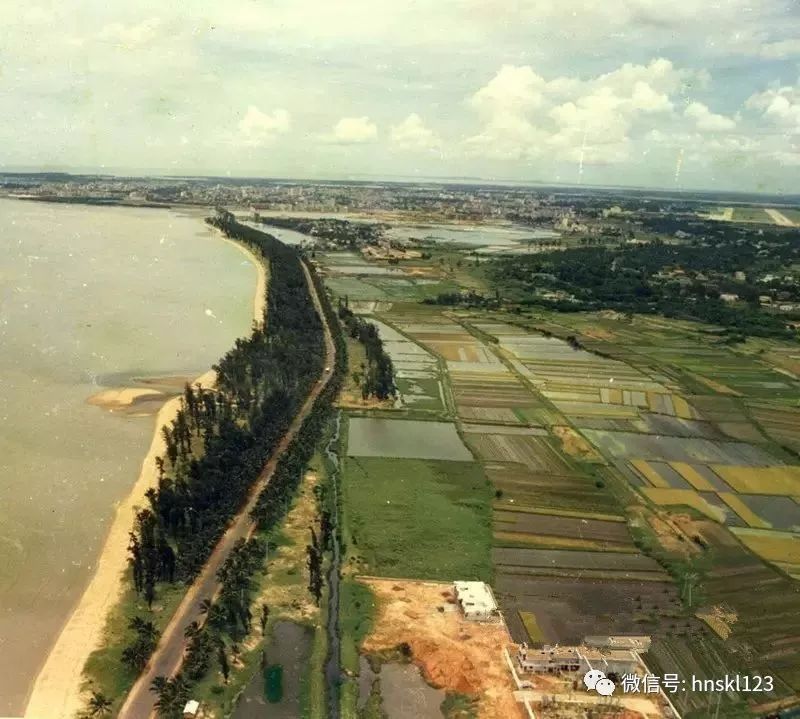 This photo is from the early 80s, looking west to east, shows Binhai Ave and Longkun North Road. The palm tree lined road in the front of the photo is Binhai Ave. The twin roads separated by drainage canal is the present day Longkun North Road. The junction of the roads is now the large intersection at Century Bridge!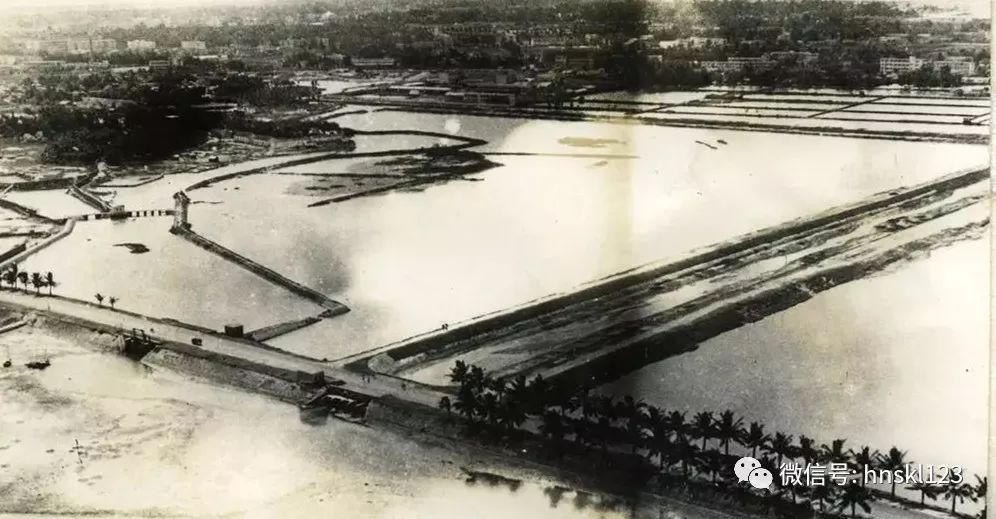 Similar view of Binhai and Longkun junction later in the 80s.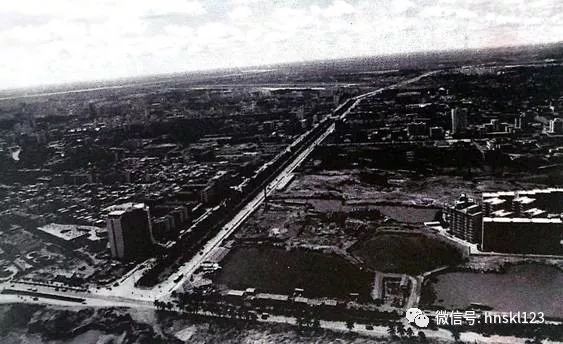 Early 1990s view of Binhai Ave and Longkun North Road Junction. View from SW to NE.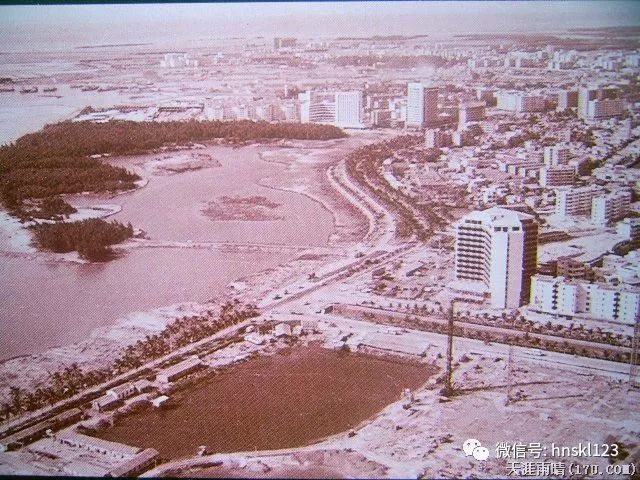 Present day (2018) view of same junction, view east to west.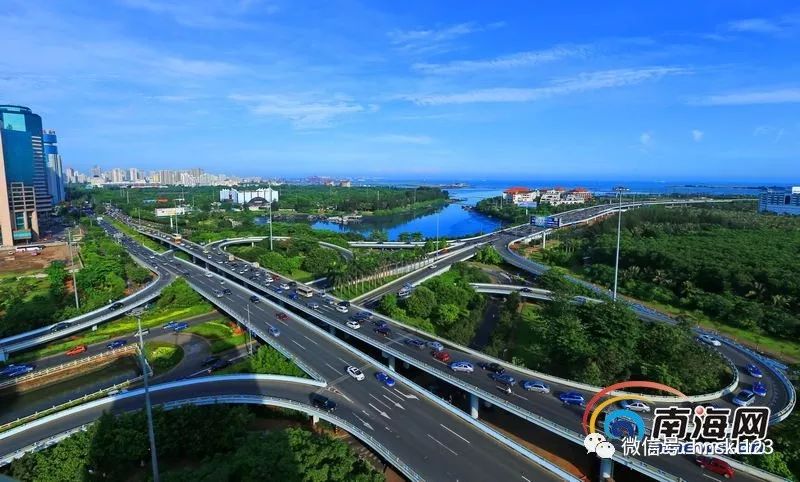 Longkun North Road in the 90s. Notice how Ever Green Park doesn't exist yet and the site is mostly water.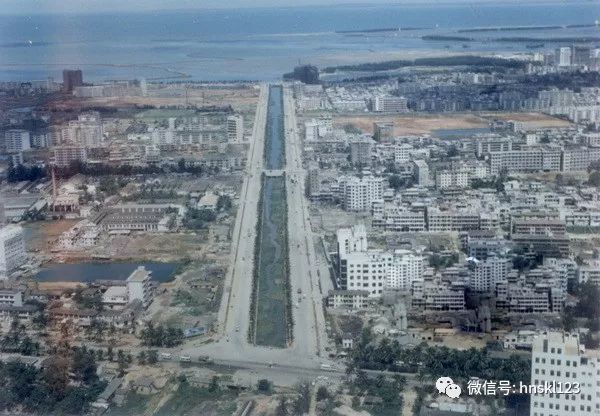 Longkun Road in the early 1980s, looking west to east. Longkun Road is insected by Longhua Road in the middle and Haixiu Road on the right. Note Guomao road hasn't been constructed yet.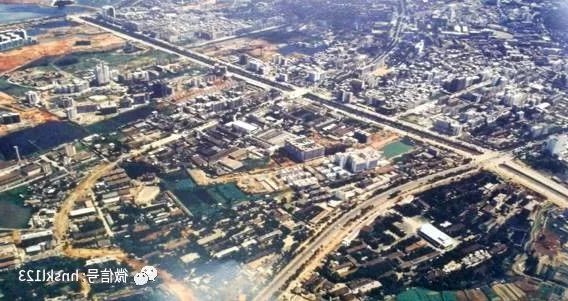 Present day Longkun Road and Haixiu Expressway. East to west.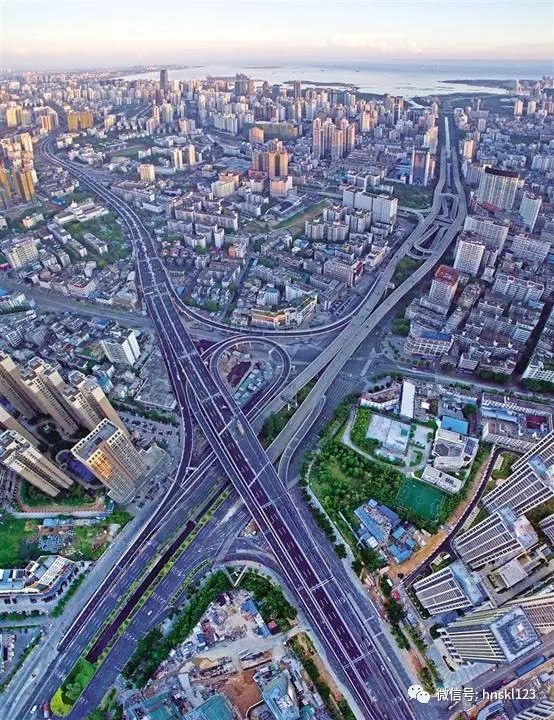 Datong Road
This is a photo of Datong Road from the 1960s. Surrounding area is mostly farmland.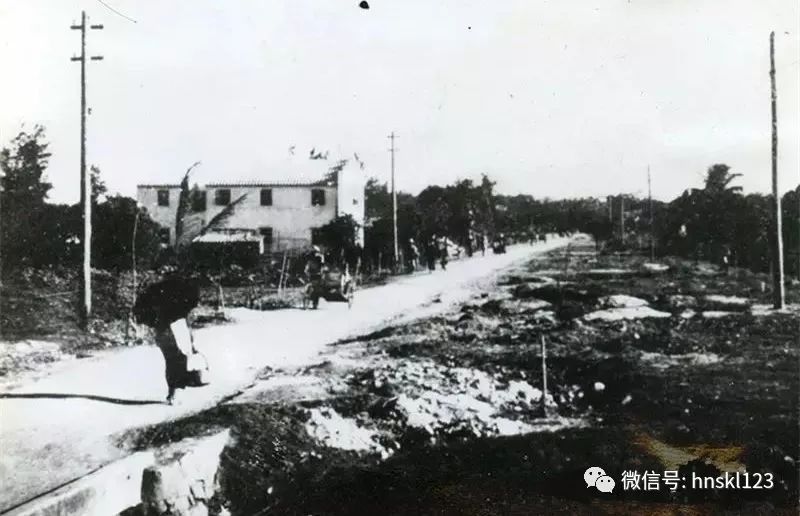 Datong Road in the 1970s. Peoples Park is on the right of the picture.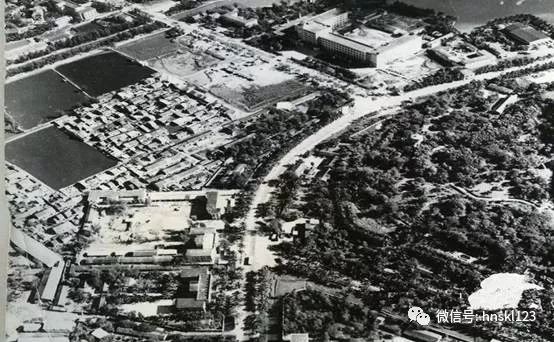 Datong Road & canal 1975, looking east to west. The road in the background is Longhua Road. The large 4 floor building is on the site of present day Tailong shopping centre/food street. (泰龙城).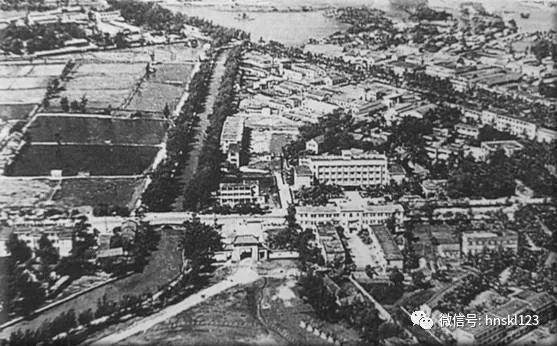 Same location in 1993. You can see Binhai Road in the back left of the photo.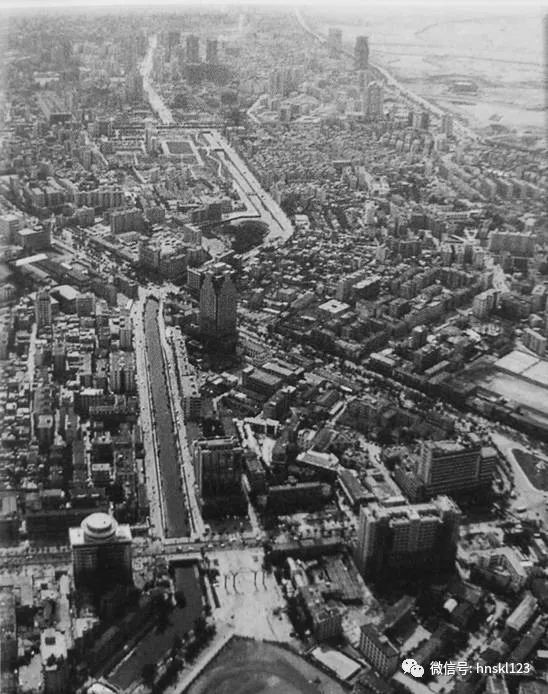 Datong Road in the early 80s. The large building under construction is the Bank of China head office (中银大厦). It is still there today. Datong road is on the right of the picture, on the left is Daying West Road (大英西路) and Peoples Park.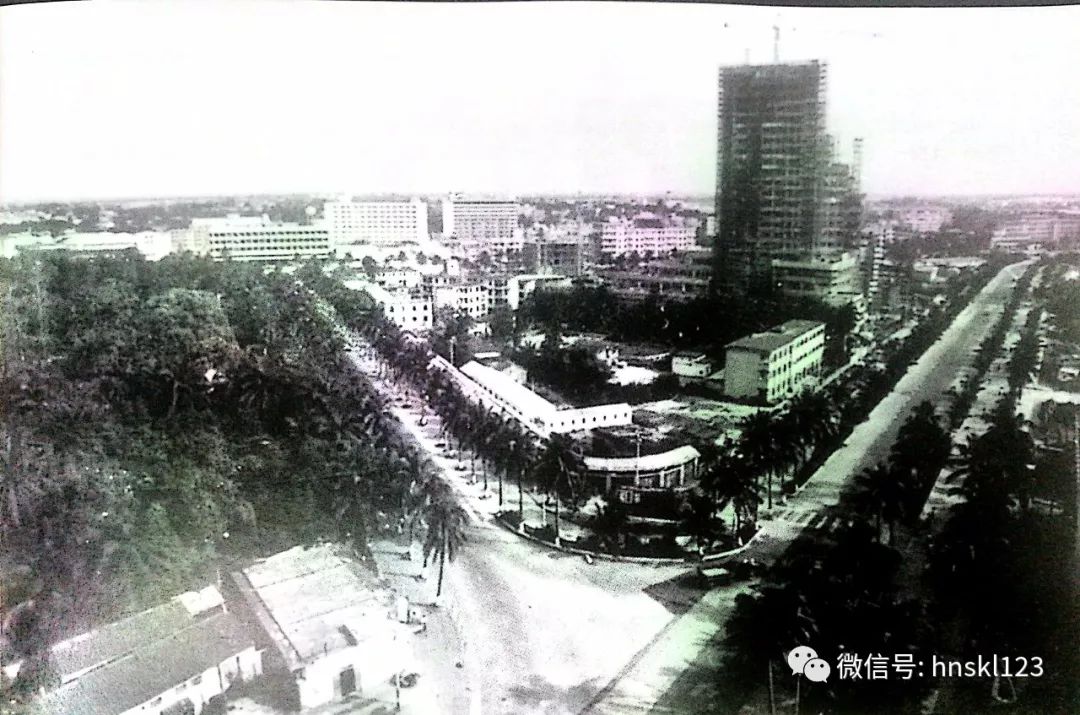 Early 1990s. Datong Road (right) and Haixiu East Road (left). Mid-left is Lantian Road.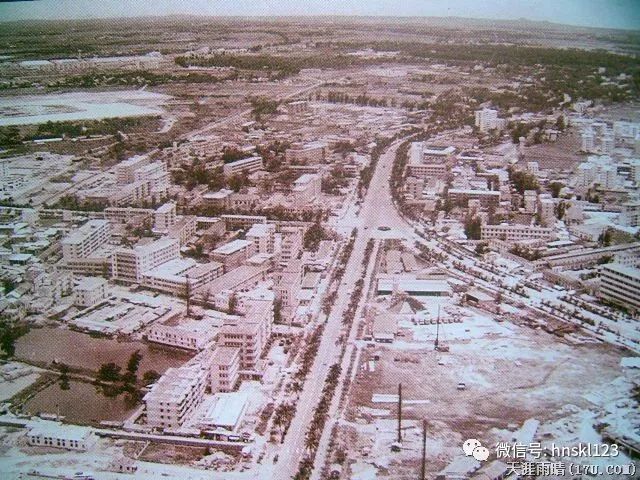 Same junction later in the 1990s.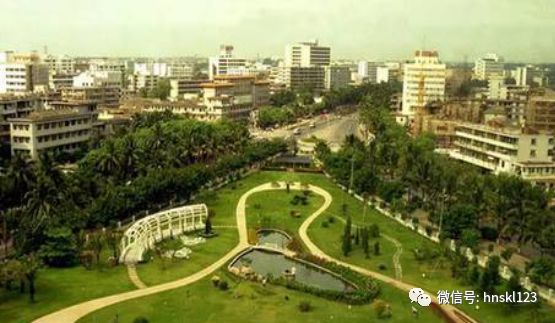 Same junction again, but from the opposite direction in the 1990s. You can see the Bank of China building in the middle and Peoples Park in the background.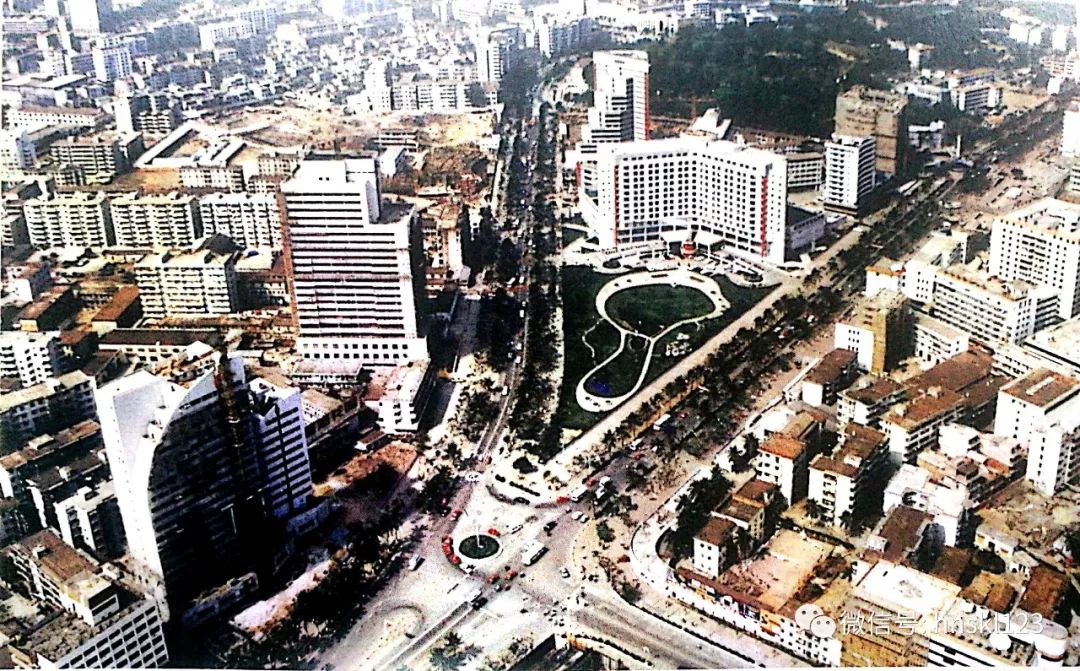 Haixiu Road and Mingzhu Plaza
Haixiu Road in the early 90s. The white building on the right stands on the site of present day Mingzhu Plaza. Back then it was the main Haikou bus station.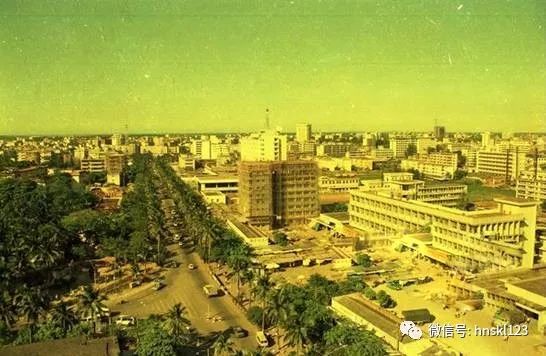 Another view of the old main Haikou bus station on Haixiu Road (present day Mingzhu Plaza).
Longhua Road
A photo of Longhua Road from the early 80s. It is surrounded by farmland.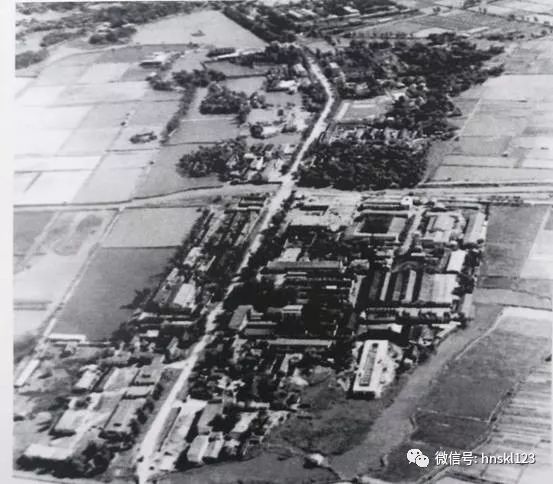 Sources:
http://news.voc.com.cn/article/201804/201804131414241333.html
Studying Chinese
Hainan University
Hainan University is also known locally as Hai Da 海大. This is a Chinese abbreviation of Hainan 海南 and daxue 大学 (which means university in Chinese).
Location of Hainan University The main campus of Hainan University is located in the north of Haikou City, on Haidian Island. It is close to the Haikou Banana Hostel (within walking distance). The south gate of the university is on San Xi Road. The east gate is on Renmin Avenue. The north gate is on Wu xi Road.
Courses The university runs Chinese language courses especially for foreigners wanting to learn Chinese. There are classes for all grades of fluency, from complete beginner to advanced.
Foreigners can also study most of the degree courses that are available to the Chinese students.
Fees Tuition fees are around 7000 RMB per semester or 14500 per year.
Hainan Premier Language School
You can also study Chinese at this school. They are located on Haidian Island in Haikou city, less than 1km from Haikou Banana Hostel.
Haikou Temples
Haikou has many temples. The most famous is Five Officials Temple (五公祠 Wǔ gōng cí). This is a fairly well known place on the tourist route, ticket price 20 RMB.
There are many small interesting temples that are generally not visited by tourists and do not have an entrance fee. These are real temples that are still part of the local communities. Wander off the main roads into the small hutong back alleys and your bound to find a few. If you do not like tourist places these temples may be more interesting than Five Officials Temple.
To find out more about specific temples and see photo galleries follow this link:
Haikou Volcano Park
13,000 years ago, northern Hainan was the scene of extensive volcanic eruptions. The rich volcanic resources left by these eruptions gave the area its fertile soils, the strange shapes of its volcanic remnants, its lava caves, its valuable igneous rocks, and its abundant tropical ecology. This geologic event was critical in moulding the scenery and culture of the area today.
Just to the south-west of Haikou City is a protected national geological and historical site several kilometers squared in size. There are several points of interest here. The landscape is dotted with small volcanoes, there are 2 lava caves (the largest of which is 3 kilometers long), old villages built entirely from lava rock, and scenic terraced tropical farmland.
The best way to explore the area is by bicycle if you can cycle that far (60km+ for the round trip). However it is not easy to find all the points of interest independently due to lack of signs and decent maps, but it is possible if you speak Chinese.
Volcano Tourist Park 火山口公园 Huǒshān kǒu gōngyuán
Ticket Price 60 RMB. One of the volcano cones has been preserved and converted into a tourist park. You can walk through the landscaped park area into the mouth of the dormant volcano. The park area also contains examples of: dried lava flow and rock; indigenous plants; traditional hand carved uses of the lava rock, etc.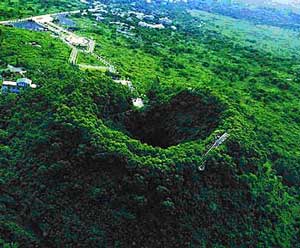 Měi shè Village 美社村
In 2008 the village appeared in the "top ten cultural villages of Hainan."
In the center of this once stronghold village, is its "history card": a gun tower named "Fuxing building (Fú xìng lóu 福兴楼)". This is an impressive five-storey stone tower. The passage of time is evident through the rain-stained walls; with moss that tracks the sun; and a few bullet holes and scars caused by artillery fire and aircraft bombing from when the Japanese invaded Hainan, leaving indelible marks that deepen the mystery of the tower. The tower was built in 1927 and is about 20 meters high. It was built with funds raised by the villagers. It's purpose was to protect the village from gangs of thieving criminals.
The tower was built during a chaotic time, when there was little law and order in rural areas. It was common for bandits to steal the village cattle, sheep and grab other possessions, so Meishe village united with their money to build a resistance effort.
The village contains many examples of the old lava rock buildings that characterize this area. But unique to this village are a few new lava rock homes built to modern standards.
Meishe is a progressive village has been awarded the "virtues of the farm demonstration sites", the "safe home model village", "provincial standard range of ecological village point of civilization," municipal "non-toxic Village" and "zero domestic violence village" and so on. If you have the opportunity to visit the volcano countryside, the may wish to take a look at Meishe village to experience the history, village community, civilization and modernity.
Leaflet for Meishe Village: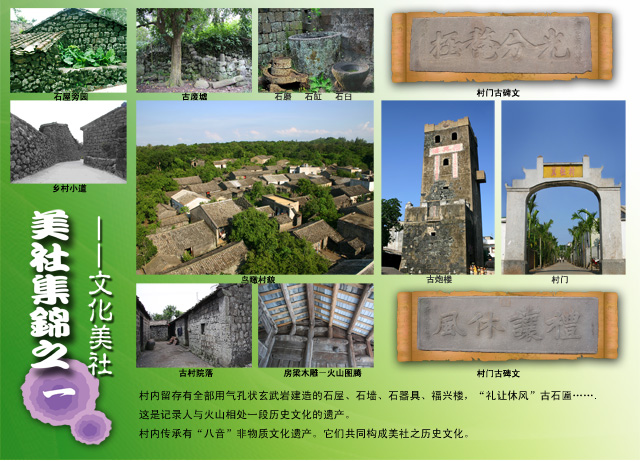 Róng táng Village 荣堂村 & Caves 洞穴 dòngxuè
Another surprise in the Volcano Park area, is a stone village called Rong Tang Village. Rong Tang Village is about 400 meters north of the town government office in Shishan Town. The entire village is made of volcanic rock and is about 800 years old. The village houses, walls, roads, shrines, and tombs, are all built from the abundant volcanic rock, creating a unique village landscape. The village is a historic example of making the most of local resources.
The village is situated at the entrance of a cave system. There is also another cave hidden on the north side of the Haikou Bybass Road.
The village is well preserved. Most village residents have moved out, only a few elderly people remain. Give the the elderly a few RMB to be a guide.
Rúfú Village 儒符 and Rúfú Pagoda Ruins 儒符石塔 Rúfú shítǎ
Source: http://www.haikou.gov.cn
The Rufu Pagoda was built in the Song Dynasty around 800 years ago. Today, just the base still stands. It is one of the oldest structures in Hainan. It was built entirely from volcanic rock and its style is rare in China. The design has influences from perhaps India or other south-east Asian countries.
Leihu Volcano
LeiHu Volcano 雷虎岭, also called "Group of Autumn Hill" 群秋岭, is about 18 kilometers south from the urban area of Haikou, about 3 km south from Yongxing town, has an elevation of 170 meters and covers an area of about 0.44 square kilometers of green farmland and forest. It is long ago dormant and is largely untouched and wild apart from some cultivated farm terraces. You are unlikely to see anyoine else there apart from a few local farmers.
The area is connected by small concrete roads between the villages and farmland which are good for cycling. The fields are defined by low walls hand made from the lava rock.
Ten thousand years ago Lei Huling was created by the eruption of a volcano, the top central ridge is a much bigger than Ma'anling volcano (the site of the Haikou Tourist Volcano Park). Unlike Ma'anling volcano, this is not a complete circular volcano mouth, its like a natural big chair in shape: East and west ridges for the arms of the chair, the South Ridge for the chair backrest, north side is the open front of the gaint chair.
Located on the west side of LeiHu Volcano is LeiHu Temple 雷虎岭庙, built in the Song Dynasty, it has a history of over one thousand years, the main deity is "White Horse Temple liang" 白马梁公.
Next to the Temple is a lava cave. The local villagers call it the "Fairy Cave" 仙人洞. It is one of the largest caves in Hainan. The cave is big enough to drive a car into it. Its said the Japanese had used the cave as a large munitions warehouse during the invasion. There is a another cave somewhere around the volcano that I was unable to find.
In addition, Lei Huling has a natural spring well called the "Confucian autumn well" 儒秋井. It has a depth of about 8 meters, and a large oval opening. Supposedly providing quality natural mineral water.
Resources
Haikou Volcano map: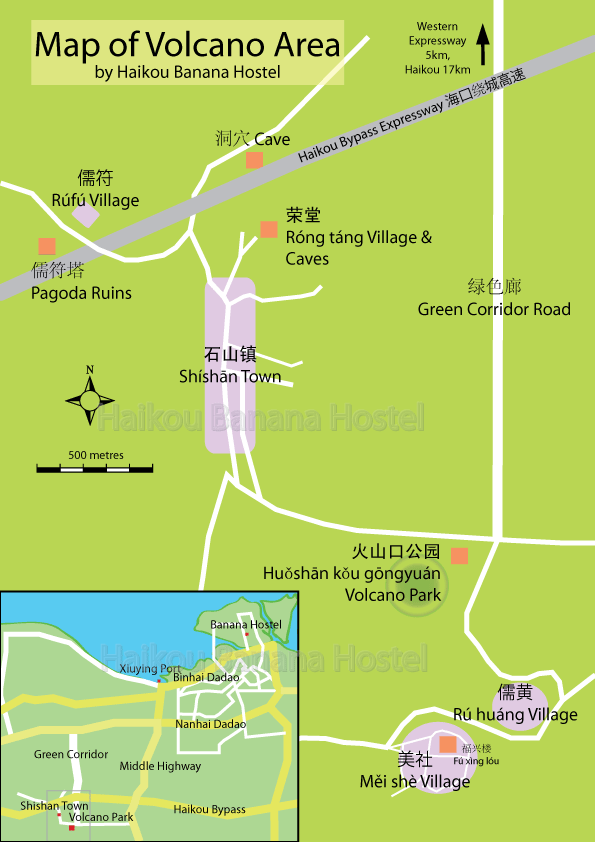 Map of the volcano tourist park:
Map of whole of protected volcano park:
Chinese map of volcano park location:
Haikou Parks
These are the main parks in Haikou:
Baishamen (白沙门 White Sand Beach). A park built next to the beach.
Shiji Gongyuan (世纪公园 Century Park), located on the coast next to Century Bridge.
Wanlu Yuan (万绿园 Thousands Green park).
Renmin Gongyuan (人民公园 People's Park), next to East Lake.
Jinniuling Yuan (金牛岭公园 Golden Bull Mountain-Peak park).
Wuyuan He Gongyuan (五源河公园 Wuyuan River Wetlands Park), a wetlands park near Holiday Beach.
Meishe He Gongyuan (美舍河凤翔湿地公园 Meishe Wetlands Park), south of city on Yehai Dadao.
Wan Lu Yuan has more large open green areas, whereas Jin Niu has more winding paths and thick tropical vegetation. Join the locals on a sunny afternoon at Wan Lu Yuan flying a kite (can be bought for a few RMB at the gate) and playing badminton.
If your interested in Tai Chi (Taijiquan), push hands, or other martial arts then go Renmin Park in the morning before 11.00am. Haikou residents practice most days at the park.
Renmin park also has wood carving stalls next to East Lake on weekends. You can see examples of the traditional Chinese art form that involves carving tree stumps.
Baishamen is close to the Banana Hostel, about 1.5 km away on the north coast.
Century Park
A new coastal cycle path connects Haikou Clock Tower to this Park, the path continues on to Evergreen Park. Century Park has football pitches, basketball courts and a running track that is ope to the public. In 2021 the Wormhole Library opened within the park. The library has a very distinctive design.
Photos of Haikou's Wormhole Library in Century Park:
Photo of East Lake next to Renmin Park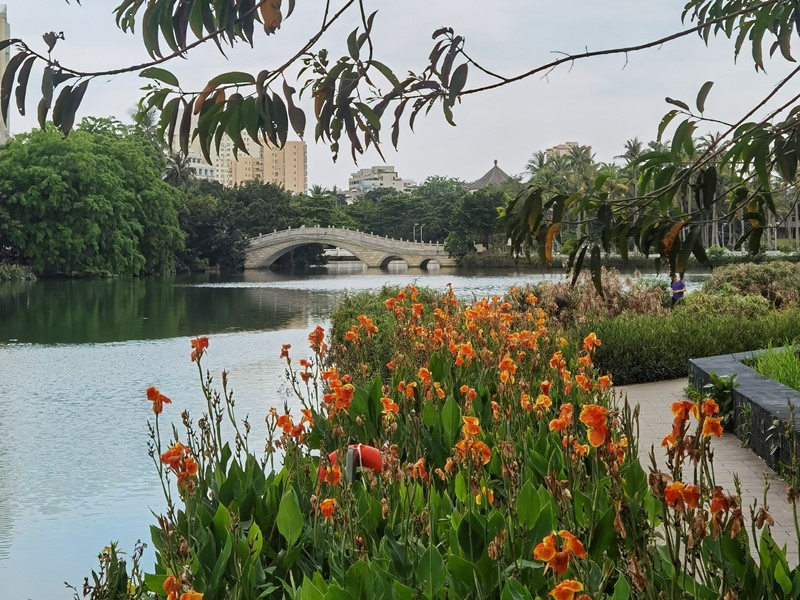 Photos of Haikou's Wuyuan River Wetlands Park:
If you cycle out to Holiday beach, this park is a good detour on the way there or back.
Haikou Bars and Nightclubs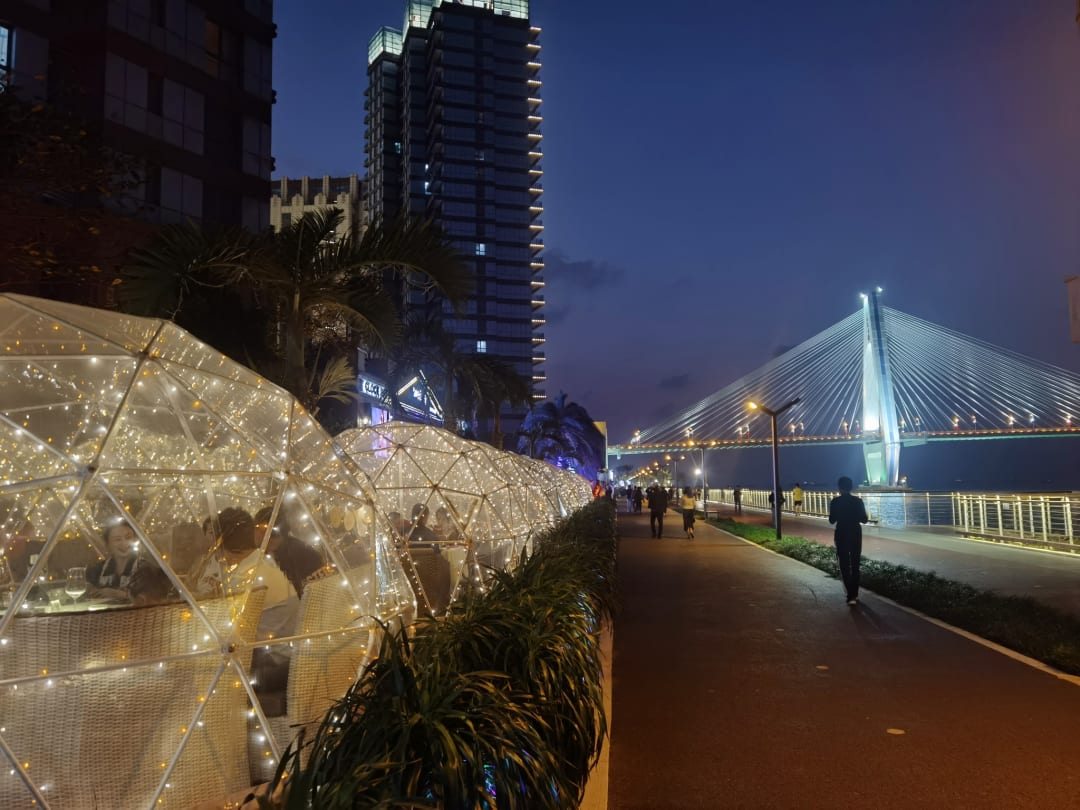 Haikou Bund Center Bar Street
Haikou has many bars and clubs around the city. There are few different types of drinking establishments in Haikou. Here s a brief summary:
There are a few western stlye bars that also serve food.
Outdoor BBQs/restaurants also have beer available so you can eat while you drink.
Large nightclubs. These bars are decorated at the opposite end of the spectrum to the small local bars. Lots of money is spent on large flashy lights, mirrors and a large sound system. Drink prices are therefore much more exspensive. Individual drinks may cost around 20-40 RMB. Beers are more reasonable if you buy 12 at a time. A bottle of vodka will cost around 300 RMB, this may work out well if your sharing with some friends. Most clubs play fairly similar music. The more modern ones will play a mix of recent House, Hip-hop, RnB, Western Chart Pop, and Chinese songs. Most clubs have a very small dance floor and lots of tables. It is normal for slightly intoxicated Chinese to toast drinks at your table. Open from evening till late. Music is generally loud.
At KTV bars your generally order a private room to share with your friends.
Bars and night clubs are generally concentrated in different areas around Haikou. Here is an introduction to some of these areas:
Haikou Bund Center Bar Street (海口外滩中心酒吧街 Hǎikǒu wàitān zhōngxīn jiǔbā jiē)
New riverside development. There are a few bar/restaurants located along the cycle path, perfectly located to watch the sunset under century bridge with a drink.
Guomao Bar Area (国贸 Guómào)
There are a number of large nightclubs and bars on, or near, Guomao Road (国贸路 Guómào lù).
Bars:
Sharkys. Popular with expats and locals
Chimac. Serves western food.
Commune. Large selection of bottled beers
Clubs:
66 bar, 66酒吧, liuliu jiǔbā. Popular and open late every day of the week.
SOHO, 苏荷酒吧, sū hé jiǔbā
Hainan University North Gate (海大北门五西路 Hǎi dà běi mén wǔ xī lù)
The north gate is a popular evening spot. On the southern side of 5 west road (五西路 wuxilu) there are many restaurants with outdoor seating that also serve beer till late in the evening. The type of restaurant is called 大排档 dà páidàng.
Bigui Binjiang Riverside Commercial Street (碧桂园滨江海岸商业街 Bìguìyuán bīnjiāng hǎi'àn shāngyè jiē)
There are a few bars and restaurants at this riverside development on Haidian Island.
Hainan Museum
Name in Chinese: 海南省博物馆 Hǎinán shěng bówùguǎn
The Hainan Museum opened in 2009 and will give you an insight into the history of Hainan. Sometimes there are collections from outside Hainan. Entrance is free.
Getting There:
Hainan Museum is located in the east of Haikou city on Guoxing Avenue.
Bus: Catch either 20, 26, 30, or 5 from opposite side of the road, outside the hostel. Get off at the Bell Tower (zhong lou 钟楼) then change bus to either 27 or 43 to Guoxing Dadao.
The museum is close to Five Officials Temple so if you visit the temple first you can then go to the museum.
Taxi: about 25 RMB.

Bicycle: about 40 minutes.
Haikou Stadium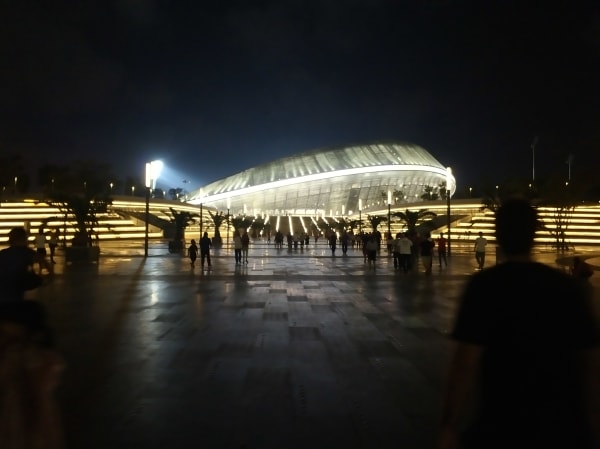 Haikou Stadium is located in the west of the city.
Haikou Convention Centre
The Haikou Convention Centre (海口会展中心 Hǎikǒu huìzhǎn zhōngxīn) is located on Binhai Road, just to the west of Evergreen Park. There are regular events, most are probably not of interest to tourists but may be useful for some Hainan expats.
Address: Haikou Convention & Exhibition Center Binhai Ave.haikou, Hainan (570125) Tel:+86-898-68586205,+86-898-68586209    Fax:+86-898-68586211
地址:海南省海口市滨海大道海口会展中心 联系电话:+86-898-68586205,+86-898-68586209 传  真:+86-898-68586211 邮  编:570125
Haikou Shopping areas
HaiXiu road is a main shopping area and includes electronic markets, department stores, and restaurants. Catch the number 30 bus from Haikou Hostel. DaTong road is another busy shopping area. Buses 15, 36 and 19 go here from Haikou Hostel.
Haikou Qilou Acrade Street
The unique decaying architecture of the old centre of Haikou is a mix European and Asian style. It was built by returning overseas Chinese. The area roughly expands from the bridge at the end of Renmin Dadao (人民大道) to East Lake (Dong Hu, 东湖). Explore the area and hutong alleys and you will get a taste of real traditional Haikou life. There are many small shops and real life community temples hidden in the back alleys.
There is an interesting food market street at Dongmen (East gate, 东门). This market street can be found on Boai Lu (博爱路). Expect to see a vast array of dried seafood, fake antiques, and many animals from Cobra snakes to turtles on sale for food.
The old town is being renovated and made into a national tourist attraction, particularly around Zhongshan Lu (中山路).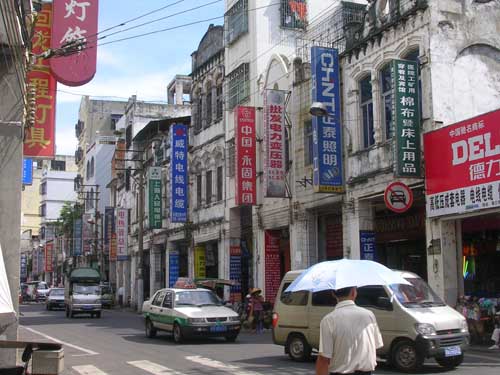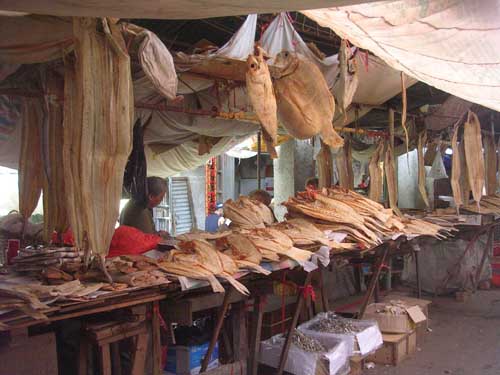 Getting There:
Walk: 15 minutes. Head south down Renmin Dadao, cross over the bridge and the road into the old section.
Bicycle: A good way to explore the area because you can easily cover a lot of ground, stopping and turning as you please. 10 minutes by bike to get to old town.
Bus: Catch either 20, 26, 30, or 5 from opposite side of the road, outside the hostel. Get off at the Bell Tower (zhong lou 钟楼), then go across the street.
Arcade Houses
'Arcade house' (骑楼 qílóu) is a term used for buildings where the front half extends out over the footpath or sidewalk. A row of such houses creates a long shaded arcade along the side of the street where pedestrians can walk sheltered from the elements. From a distance qilou bear a resemblance to the diaojiaolou (吊脚楼) of western Hunan, where the rear part of the house is built over water.
The arcade house is a particular style of building combining the characteristics of European and Southeast Asian architecture. This subtle blend of architectural elements has its own peculiar style and cultural atmosphere.
The existing arcade houses in Haikou were largely built by Hainanese returning from overseas during the 1920s and 1930s and are concentrated around five old streets: Bo'ai Lu, Zhongshan Lu, Xinhua Beilu, Deshengsha, and Changdi Lu. This area remains one of the liveliest commercial districts of Haikou to this day.
The old commercial quarter has whole streets of decaying arcade houses still in use.
Haikou Clock Tower
Haikou Clock TowerHaikou Clock Tower (钟楼, Zhōnglóu) is an important historical landmark. Originally built in 1928, it represents the development of trade in Haikou City. It is also a useful landmark to help tourists orientate themselves in the city and many local buses stop here.
From around the 1923 Haikou's trade started to flourish, particularly with other south-east Asian countries. Haikou become a busy port. The clock tower was built to provide a standard time piece to facilitate trade for all the merchants, customs officials and the transport infrastructure.
The Haikou Clock Tower (aka Haikou Bell Tower) is located on the south side of Haidian River, between the south-west corner of Renmin Bridge and Changdi Road. This is the northern edge of the historical centre of Haikou. It was partly destroyed during the cultural revolution, and rebuilt in 1987.
It is 28 metres high, made from red brick with white lime pointing. It has a European Gothic design which contrasts with the surrounding palm trees.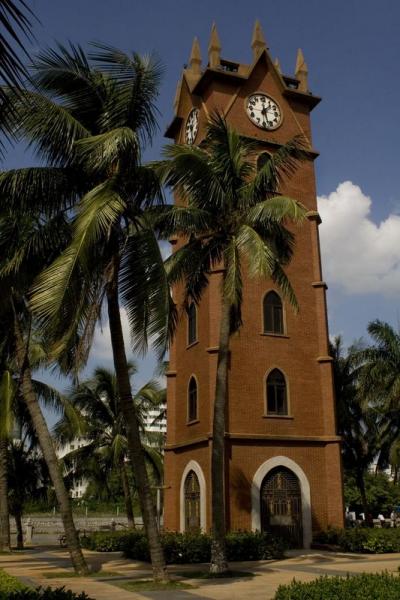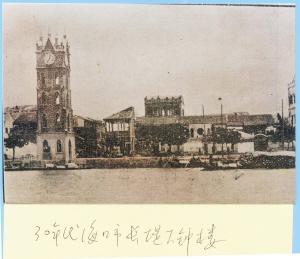 Haikou Buses
Buses are modern and air-conditioned. The basic price is 1 rmb you can pay by scanning with mobile phone Wechat app.
Here are some useful local bus routes to get around the city from Haikou Banana Hostel.
Clock Tower (钟楼站 Zhōnglóu zhàn). Buses 30, 5, 20, 26 from Renmin Dadao, on the opposite side of the road from hostel.
Holiday Beach (假日海滩 Jiàrì hǎitān). Bus 37 from the Clock Tower (钟楼站 Zhōnglóu zhàn).
Crown Spa Beach Resort (皇冠酒店 Huángguàn jiǔdiàn). Bus 27 from opposite side of road from Clock Tower (钟楼站 Zhōnglóu zhàn) (heading east).
Mingzhu Square/Haikou Park (明珠广场 Míngzhū guǎngchǎng). Bus 19 or 36 from Renmin Dadao, opposite side of road from hostel.
Ever Green Park (万绿园 Wàn lǜ yuán). Bus 21 from Renmin Dadao, opposite side of road from hostel.
Haikou Volcano Park (海口火山口公园 Hǎikǒu huǒshān kǒu gōngyuán). Bus 7 from '3 East Rd' (三东路 Sān dōng lù), opposite Nanguo Supermarket. Get off at 海榆中线 Hǎi yú zhōngxiàn. Then get a mini-bus to Shishan Town (石山镇 Shíshān zhèn).
Guomao Area (国贸 Guomao). Bus 7 from '3 East Rd' (三东路 Sān dōng lù), opposite Nanguo Supermarket.
Five Lords Temple (五公祠 Wǔ gōng cí) and East Bus Station (海口东站 Hǎikǒu dōng zhàn). Bus 11 or 44 from outside hostel (京海花园 Jīng hǎi huāyuán), on the opposite side of the road.
South Bus Station (海口南站 Hǎikǒu nán zhàn). Bus 20 from Renmin Dadao, opposite side of road from hostel. Get off at Poxiang Rd stop (坡巷路站 Pō xiàng lù zhàn) and walk about 400m north, the South Station is on your right at the major junction.
Hainan Museum (海南省博物馆 Hǎinán shěng bówùguǎn). Bus 43 or 27 from the Clock Tower (钟楼站 Zhōnglóu zhàn). Get off at the Hainan Sq. stop (海南广场站 Hǎinán guǎngchǎng zhàn), walk 200m east along main road.
Tourism shuttle bus A. Baishamen to Volcano Park
Stops: Báishā mén → jīn hǎiàn dà jiǔdiàn (Golden Coast Hotel) → wànfú xīncūn → wàn lǜ yuán (Ever Green Park) → fùháo dàshà → hǎinán qiáo zhōng → yàzhōu guójì dà jiǔdiàn (Asia International Hotel) → jīnniú lǐng gōngyuán (Golden Bull Mountain-Peak Park) → hǎi ruì mù (Hairui Tomb) → huǒshān kǒu gōngyuán (Volcano Park) Departure time:(Baishamen to Volcano Park) 9:00 am, 2:00 pm (Volcano Park to Baishamen) 12:00 noon, 5:00pm Price:10 RMB per person. Total distance, one way: 34km
旅游A线 :白沙门-火山口公园
途径:白沙门 → 金海岸大酒店 → 万福新村 → 万绿园 → 富豪大厦 → 海南侨中 → 亚洲国际大酒店 → 金牛岭公园 → 海瑞墓 → 火山口公园
发车时间:(白沙门-火山口公园)上午09:00、下午14点; (火山口公园-白沙门)中午12:00、下午17:00。<单向> 票价:单程34公里,10元单向>
Taxis
Taxis are plentiful in Haikou and are an easy way to get around. The metered fare is 10 RMB for the first 3km and 2 RMB per additional km.
Nowadays, Uber style taxi services are the most common. DiDi (滴滴出行) is the local equivalent of Uber. If you have Wechat app on your phone you can use DiDi from the mini apps within Wechat to order a taxi.
High Speed Train
The modern high speed train is the best way to get to Sanya and most other destinations on the east and west coast. The train runs all the way around Hainan Island. There are 20+ different stations.
The main station in Haikou is the Haikou East stop (海口东 Haikoudong). It is in the south east of the city on Fengxiang Road (凤翔路). Haikou East stop is the easiest stop to get to if you are staying in Haikou City.
Price: A standard train ticket to Sanya from Haikou costs around 100 rmb.
You can check price, timetimable and make bookings with these sites:
Map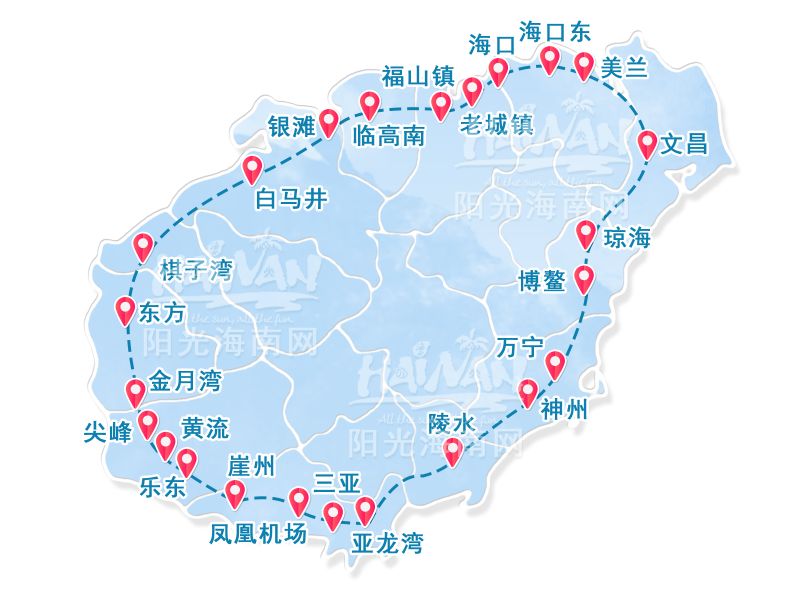 Table of Train Stations in English and Chinese
| Station Name | Address | km |
| --- | --- | --- |
| Haikou 海口站 | 海南省海口市粤海大道 | 0 |
| Haikou Dong 海口东站 | 海南省海口市龙华区凤翔西路 | 24 |
| Haikou Airport 美兰站 | 海南省海口市美兰区海口美兰国际机场对面 | 38 |
| Wenchang 文昌站 | 海南省文昌市文城镇南阳路 | 89 |
| Qionghai 琼海站 | 海南省琼海市嘉积镇 | 139 |
| Boao 博鳌站 | 海南省琼海市中原镇 | 152 |
| Wanning 万宁站 | 海南省万宁市环市二西路 | 193 |
| Shenzhou 神州站 | 海南省万宁市莲花村 | 205 |
| Lingshui 陵水站 | 海南省陵水黎族自治县椰林北大道 269 号 | 242 |
| Yalongwan 亚龙湾站 | 海南省三亚市吉阳区吉阳大道 | 296 |
| Sanya 三亚站 | 海南市三亚市育秀路 10 号 | 308 |
| Sanya Airport 凤凰机场站 | 海南省三亚市凤凰镇机场路 | 336 |
| Yazhou 崖州站 | 海南省三亚市崖州区崖保路 | 308 |
| Ledong 乐东站 | 海南省乐东县九所镇九所新区 | 282 |
| Huangliu 黄流站 | 海南省乐东黎族自治县黄流镇孔汶村 | 267 |
| Jiangeng 尖峰站 | 海南省乐东黎族自治县佛罗镇新丹村路口内 | 253 |
| Jinyuewan 金月湾站 | 海南省东方市板桥镇 | 234 |
| Dongfang 东方站 | 海南省东方市解放东路 | 200 |
| Qiziwan 棋子湾站 | 海南省昌江县乌烈镇道隆村 | 169 |
| Baimajing 白马井站 | 海南省儋州市王五镇新地村 | 110 |
| Yintan 银滩站 | 海南省儋州市光村镇 | 81 |
| Lingao 临高南站 | 海南省临高县博厚镇 | 51 |
| Fushan 福山镇站 | 海南省澄迈县福山镇 | 35 |
| Laocheng 老城镇站 | 海南省澄迈县老城镇玉楼村 | 13 |
Yanfeng Town and Surrounding Villages
Apart from the mangrove the Yanfeng Town area also has some interesting features. There is a well maintained temple near Luwei Village (禄尾村 Lù wě icūn). There are still some traditional wooden boat builders with workshops on the estuary. Each boat is hand made and it is interesting to watch the carpenters at work and see the techniques used. For example, the use of fire and heavy stones to bend the planks of wood. It is also interesting to wander around the small villages and enjoy the farmland.
Photos:
Mangrove Natural Reserve
Haikou's Mangrove Reserve is located about 20km to the east of Haikou city centre.
The Chinese name of the mangrove area is 红树林 (Hóng shù lín) or the Red Forest. I guess this name is related to the type of mangrove trees that grow in the area because there is a type of mangrove called red mangrove, or rhizophora mangle.
Here is a description of red mangrove from wikipedia:
Rhizophora mangle, known as the red mangrove, is distributed in estuarine ecosystems throughout the tropics. Its viviparous "seeds," in actuality called propagules, become fully mature plants before dropping off the parent tree. These are dispersed by water until eventually embedding in the shallows.
The mangrove supports certain species of bird, so it may be of interest if you are a bird watcher. The area is abundant in oysters and local people come to small restaurants on the edge of the mangrove to eat the fresh oysters. Another famous food is the salt water duck.
Tourist boats depart from a port near Yanfeng town (演丰镇 Yǎn fēng zhèn). They give a tour through some of the mangrove.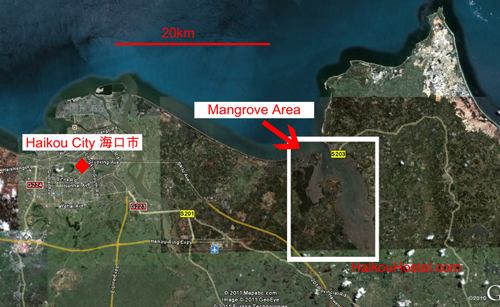 Photos:
Hainan Tropical Wildlife Park and Botanical Garden
Name in Chinese: 海南热带野生动植物园. Pinyin: Hǎinán rèdài yěshēng dòng zhíwùyuán
Located in Dongshan Town, Xiuying District. It is about 30km from Haikou City. 园址:海口市秀英区东山镇(海榆中线27公里处)
The park is divided into a section explored by car/bus and a walking section. Ticket Price: around 100 RMB. How to get there:
Fucheng to Dongshan minibus passes the animal park main entrance. You can catch this minibus on Nanhai Avenue (南海大道) at the bus stop opposite the South Bus Station. The bus ticket is 7 RMB.
府城–东山的中巴车经过动物园大门口,在南海大道或南站对面公交站点乘坐即可,车票7元.
If you are driving yourself, take the Central Highway (also known as the 海榆中线 Hǎiyú zhōngxiàn, or G224 Road) 27km straight south from Haikou. You will see a large sign on the left hand side. Turn left at the sign and continue for 3 km and you will arrive at the park entrance.
There is also an exit for the park on the eastern expressway. The park is 12 km from the exit.
自驾车往海榆中线(G224道)直走27公里,在27公里处有路牌指示,再往左手边转3公里就可以看到景区大门口.或走东线高速,从十字路出口下高速,有路牌指示.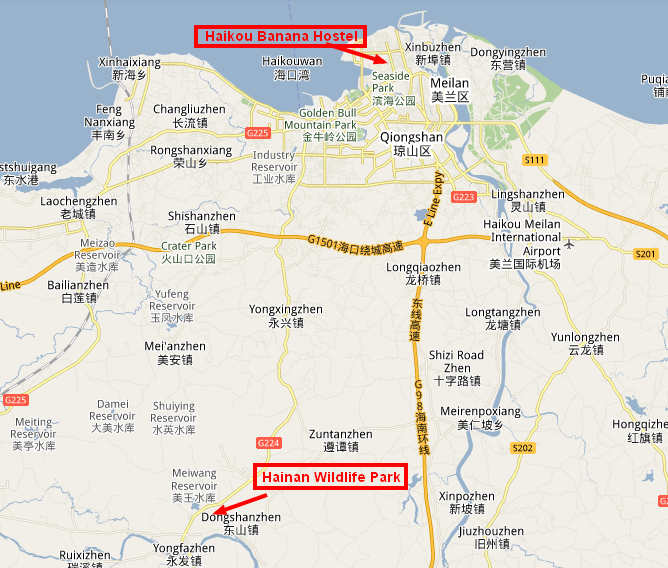 Photos: