Hainan Guide
Hainan Introduction
Hainan island is characterized by a tropical climate, a relaxed pace of life, and plentiful beaches. Outside Haikou, the capital city, Hainan is relatively undeveloped. Travel a short distance outside the city and you will find villages where people lead a traditional farming way of life in lush green countryside. Around the coastal regions are many beaches. Adventurous travelers who explore can find many unspoilt, natural beaches, unpopulated by tourists. The inner area of the island features jungle and mountains and are good areas for hiking and mountain biking.
A tropical island the size of Taiwan, Hainan is located in the South China Sea. Like islands everywhere, it is a compact unity in itself, a small world of its own away from the grand scale and shifting boundaries of the continent. Like many islands it is a comfortable sort of place, isolated from the currents that have periodically raged in the centres of power.
For a long time Hainan was remarkable only for its intractable indigenous inhabitants and its role as a destination for exiled politicians from the Chinese Mainland. For many people, including many who live there, Hainan is nothing more than a Sun Belt location where life is easy and doesn't make too many demands on the intellect. The concept that Hainan has its own culture or history fails to make much impression in the indolent atmosphere of the tropical resort.
But culture (or rather, cultures) it does have, and history, too, even if these pale beside the grand cultures and histories of the world's great metropolitan centres. Hainan has also made its own unique contributions to the world.
The superior weaving techniques of the Li people (Hlai) helped establish the Mainland Chinese textile industry, now the undisputed powerhouse for the entire world's garment industry.
Hai Rui was a Hainanese-born official of the Ming dynasty widely respected and admired for his fairness and uncorruptibility. A play about Hai Rui is said to have precipitated the Cultural Revolution.
The Hainanese who left to seek their fortune in Southeast Asia did a lot for the places they settled in, including such immortal contributions as Singapore's national dish, Hainan Chicken Rice, and that world-famous cocktail the Singapore Sling.
Hainan is the ancestral place of the Soong sisters who played such contrasting roles in the making of modern China.
Hainan is the home of the Red Detachment of Women, who fought so valiantly against the Japanese. The Red Detachment of Women has passed into the national mythology of modern China.
More recently, Hainan has put itself on the map for forced landings by US spy planes and events like Triathlons, the Miss World Contest, and the Boao Forum for Asia.
People and Population
Provincial capital: Haikou Population: 9.26 millions (2017) Ethnic groups: Han nationality–totaling 84.1 percent of the population–and the rest are the Li, Miao, Hui and other minority nationalities. The Li nationality has a population of 980,400 people, and the Miao, 45,600. Major Cities: Haikou, Sanya.
Geography and climate
Its topography is low on four sides and high in the center from which radiate the island's rivers. 20 percent of the island is mountainous,15 percent hilly and 65 percent is plain and tableland. Two major ports, Haikou and Yulin, are along its 1,440-km coastline. The province has an area of 34,000 sq km.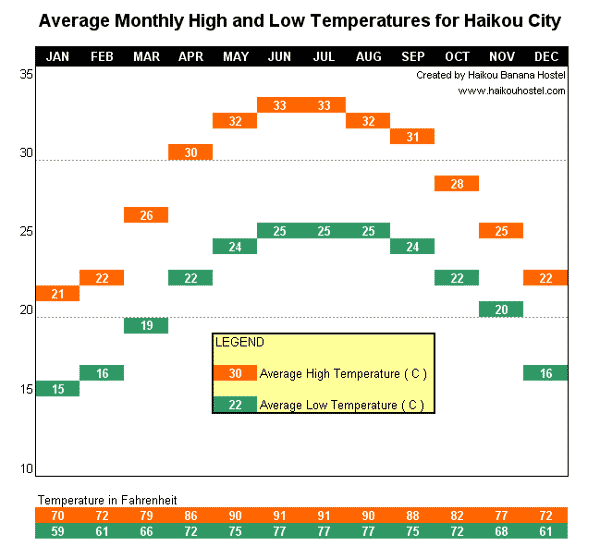 More than 300 days of a year are sunny days. Hainan has more than 4,000 species of plants, accounting for 15 percent of the country's total, and 600 of them are native to the island. It is estimated that 344 species of birds and 77 kinds of animals dwell in Hainan, of which gibbons, pangoins, rhesus monkeys and civet cats have been put under state protection. The province also boasts 50 types of minerals.
Economy
Since the 1980s, Hainan province has been a Special Economic Zone of China. Hainan Island is largely untouched by industrialisation and there are few factories. The economy is not subject to the policies of the mainland. Its nominal GDP for 2004 was 76.94 billion yuan (US$9.55 billion), making it the 4th smallest in all of the PRC and contributes just 0.5% to the entire country's economy. Its GDP per capita was 8,270 yuan (US$998).
Sanya
Sanya (in Hainanese, Tam A, pronounced "Dumb Ah") is the tropical resort at the southern end of Hainan that everyone seems to be going to. If you like beach resorts and tropical weather, it's a great place to go, but expect crowds of tourists, particularly at peak seasons. Don't forget, there is a lot more to Hainan than Sanya…
Sanya is the second largest city, after Haikou, in Hainan. It is situated on the southern most tip of the island. Central Sanya has a population of around 150,000. If you include the surrounding area the population is more like 400,000. This population includes Han, Hui, Miao, and Li nationalities. Sanya is the main tourist area on Hainan. You can divide Sanya into 3 areas: Sanya city, Dadonghai Bay, and Yalong Bay.
Yalong Bay
This is a beautiful semi-private bay and home to the most expensive hotels. The hotels here tend to be 4 and 5 star. Even if you are not staying at one of the posh hotels, it is worth coming to this area and having a stroll around the beautifully landscaped beach front resorts. However there are no restaurants, shops or bars here apart from the hotel ones.
Dadonghai Bay
Dadonghai is not as attractive Yalong, but there are many cheaper budget hotels, including a youth hostel. You can get a room in the cheaper hotels for 100+ RMB. One advantage of Dadonghai is that there are many restaurants, shops and bars here. There is a bus that runs between Dadonghai and Yalong every 30 minutes. It costs 5 RMB. You can also get a taxi which should cost around 50 RMB.
Water Activities
You can take part in many water activities in Sanya including jet-skiing, sailing, snorkling, paragliding, and scuba diving. The waters around Sanya are clear on a calm day and there are coral reefs with some tropical fish and so is a good place for diving. You can do a half hour beginners scuba dive with your own instructor (Chinese speaking) for around 250 RMB. There are also a few companies that do full PADI courses.
Other Attractions
Monkey Island
Wuzhizhou Island
Tianya Haijiao
Luhuitou Peninsula
Luobi Cave
Located 15km north of Sanya City.
http://en.wikipedia.org/wiki/Luobi_Cave"http://en.wikipedia.org/wiki/Luobi_Cave>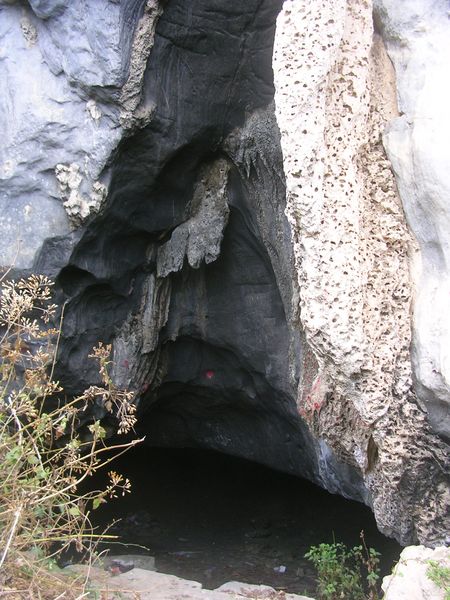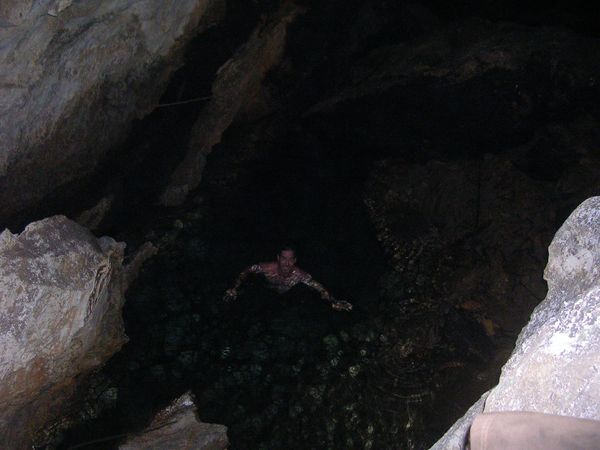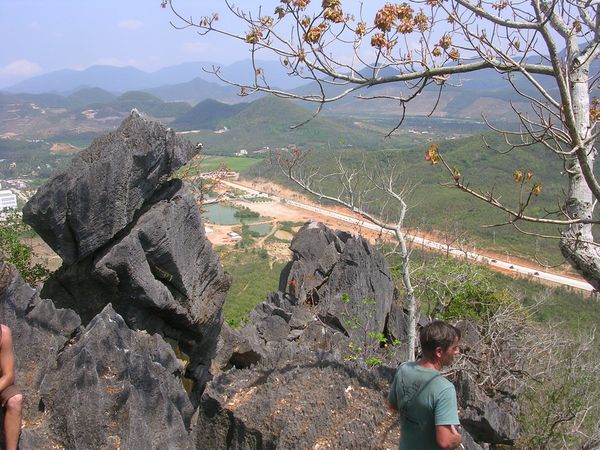 Nantian Hotsprings
This hot spring resort is situated about 40 minutes by bus north of Sanya. It claims to be the best hot spring resort in China, and it just might be. I paid 160 rmb per person including a return bus from Dadonghai in Sanya (I booked through the Pearl River Hotel in Dadonghai, it costs more if you pay on arrival). It is a little expensive but after the trip I felt it was money well spent. Nantian hot spring resort combines a variety of different outdoor hot spring pools, a swimming pool and attractive landscaping. One of the highlights is the 'fish therapy' pool. The pool contains lots of small fish. Once you relax in the pool the fish slowly approach and begin gently nibbling away the dead skin on your body, giving you a natural exfoliation. The tickling sensation takes a few minutes to get used and provides a unique experience. I would recommend Nantian hotsprings if you don't mind spending a little money. You could spend most of the day at Nantian if you wanted to relax and lounge around. Take some food or you can buy from the restaurant. You will need a extra 200 rmb for deposit.
Coconut Island
Chinese name: 东郊椰林 (文昌), Dongjiao Yelin (Wenchang County).
This is a beautiful area to the south east of Wencheng. It is not really and island, but a peninsula.
The area consists of miles of nice beaches, small villages, dense green tropical vegetation and winding pathways.
Most of the area is undeveloped, but you can find some small beach resort areas. The beach resorts have medium priced accommodation, or some much cheaper guest houses can be found nearby.
Direct buses for Dongjiao leave from Haikou East and South stations, thay cost around 30 RMB and take a couple of hours.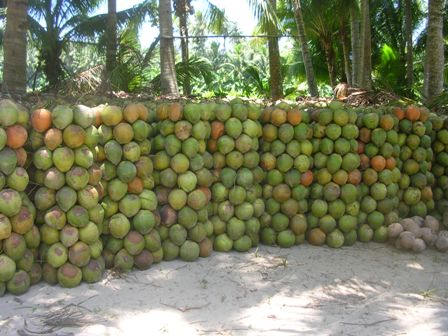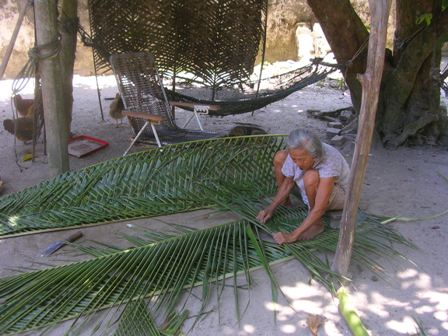 Photo Gallery: Coconut Island Photos
Wenchang County
Wenchang (Hainanese Ven Sio, pronounced "Vun Syo"), to the east of Haikou on the northeastern corner of the island, is the centre of Han settlement and the place where standard Hainanese is spoken. It is also one of the main sources of Hainanese migration overseas. The Song sisters were born here. The main attractions here are the Dongjiao Coconut Plantations and Tonggu Mountain Reserve.
Wenchang Town
Wenchang 文昌 is located in the north-east of Hainan, about 65km south-east of Haikou. Wenchang is the capital of the Wenchang County.
Wenchang Confucius Temple
Chinese: 孔庙; pinyin: Kǒng miào Locatedd in Wenchang Town, this temple is around 600 years old.
Photos of Wenchang Confucius Temple: Wenchang Confucius Temple Photos
Tonggu Ling & Yue Liang Bay
Tonggu Ling (铜鼓岭) is the name of a small mountain and is a protected reserve on the North-East coast of Hainan. YueLiang Bay (月亮湾, Moon Bay) is a long strech of beach on the north side of the mountain.
This is an area of natural beauty. Ascend TongguLing mountain and you are rewarded with spectacular views of the surrounding beaches, sea and coconut forest. The sea is clean and clear and the beaches stretch as far as you can see. Wander down to the beach and you will most likely have your own 10km beach, apart from the occansional local fisherman. It is a great contrast to the developed beach resorts of Sanya. For me, this place is what Hainan is all about. Don't expect to find any signposts to this spot; to find it I used a combination of map, compass, asking locals, and trial and error. Beaware the area is starting to develop, especially since the government started contruction of a new satellite launch site in the nearby town of Longlou. There are reports that foreigners have restricted access to the area.
Tonggu Ling is a 2 hour (100km) drive south-east from Haikou. This makes it an ideal day trip from Haikou. To get there head east from Wencheng for around 50km.
Stone Park
Location: Part of the Tongguling Nature Reserve, East of Wenchang, Hainan Island.
This is an area we found through a trip with some local people. The area is geographically interesting due to the combination of massive rock formations, small beach coves, green countryside, and hilly terrain.
Blog Article About Snorkeling at Stone Park
Snorkeling as been on my list of things to do for a while. I was exploring the North-East coast of Hainan on a calm day and found a spot that looked interesting. The water had good visibility and even without any equipment I could see interesting coral and some fish.
This is when I realized the relationship between water visibility and the weather. It seems very obvious now, but it did not occur to me before. Visibility is best when there are no waves or wind. Snorkeling weather is roughly the inverse to good surf weather.
In the following few days I purchased some snorkeling equipment locally (not the greatest quality, but it will suffice for now). I also kept abreast with the swell and wind forecasts (there is a link to a good forecasting web-site at the end of this page), waiting for the right conditions.
The right day came and I had a fun day exploring the area with a few friends. Visibility was probably around 2-3 metres. We saw lots of coral and quite a few small fish. Do not try to pick up sea urchins because they can fire their spikes into your hand as a friend learnt the hard way. I think there are probably many decent spots around the island to snorkel. It's just a matter of going out and finding them. An excellent inexpensive day out.
Swell and wind forecasts: http://magicseaweed.com/South-East-Asia-MSW-Surf-Charts/71/
Photos of Tonggu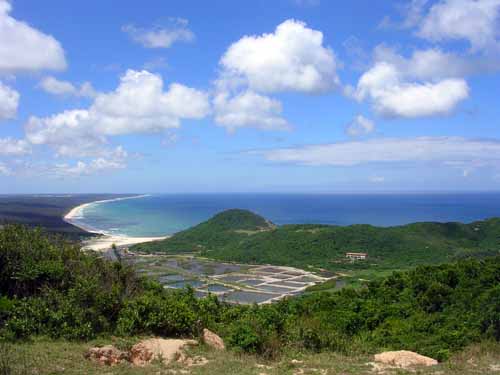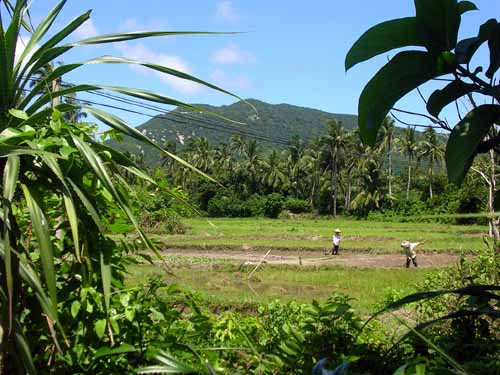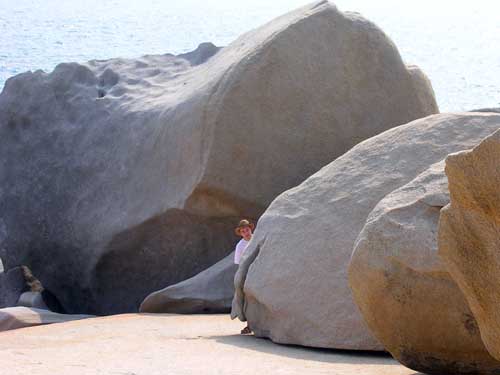 Photo Gallery:
Tongguling National Nature Reserve Photos
Further info about Tongguling National Nature Reserve
Chinese name: 海南铜鼓岭国家级自然保护 Hǎinán tónggǔ lǐng guójiā jí zìrán bǎohù qū
Location: Wenchang County (文昌)
Key areas of protection: Coral reefs, geological features, tropical monsoon elfin forest, wild animals
Area (ha): 4,400
Tongguling Nature Reserve is located in the north-east of Hainan. It is on the south east coast of Wenchang county, about 30 km from Wenchang Town. The geographical coordinates are E: 110 ° 58'30 "~ 111 ° 03'00", N: 19 ° 36'54 "~ 19 ° 41'21". It is about 45km sq in size, about 30km sq of which is sea.
There are about 1000 plant species, 10 species of birds and 20 kinds of reptiles, plus amphibians and insects.
A key area of protection are the shallow coral reefs. Typical reef organisms in the reserve include: scleractinian corals, coralline algae, staghorn corals, soft corals, fish, algae, mollusks, benthic organisms and other reef organisms.
Tongguling has geological features that are rare in China including the erosion of igneous rocks by both weathering and wave erosion. This results in the formation of sea cliffs, sea caves, sea niches, etc. The area is situated near a deep fault line and so historically affected by tectonic plate movement and once was volcanic.
Source http://www.hainan.gov.cn
Puqian Town
35km east of Haikou is the small fishing town of Puqian (铺前镇).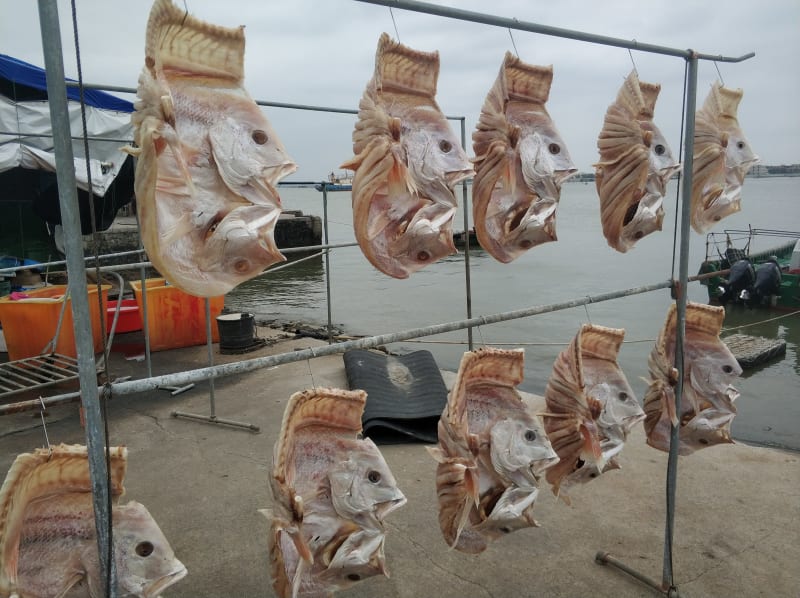 Doubing Tower
Doubing Tower (斗柄塔) is located around 7km north of Puqian Town in the north-west of Wenchang County on Qixing Ridge. Originally built in 1625 as a landmark for incoming ships, it is one of the oldest structures in Hainan.
You can climb the narrow stairs to get a view from the top. No entrance ticket required.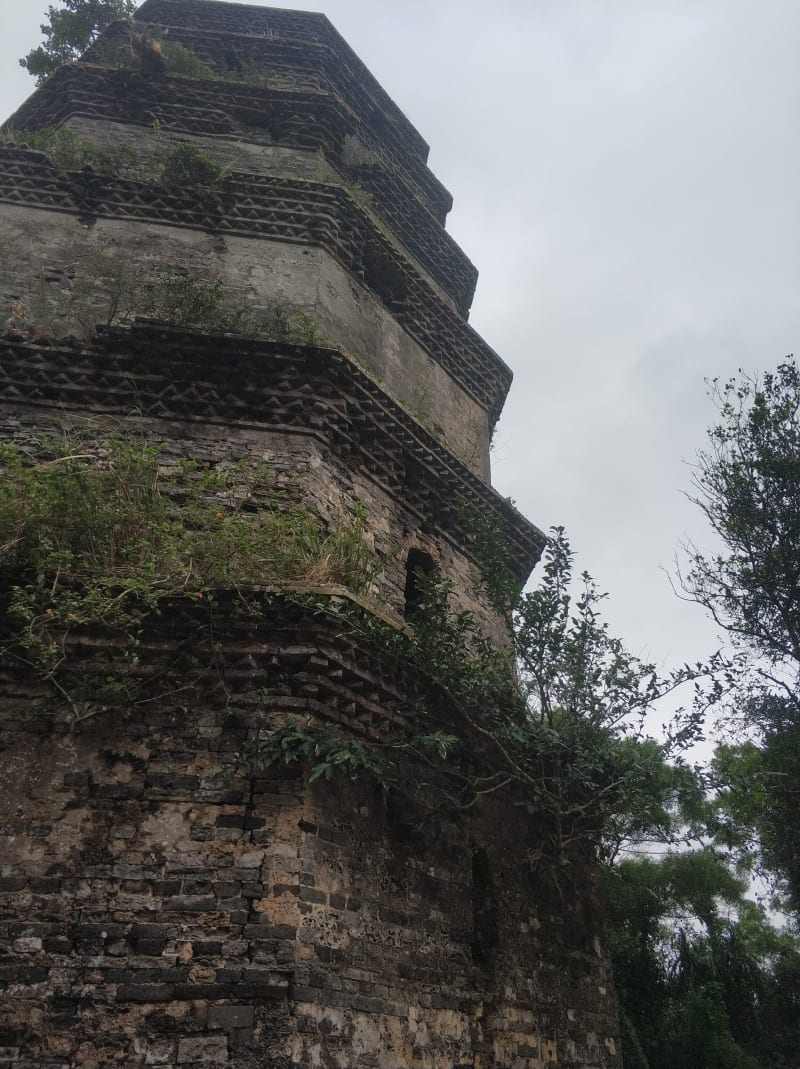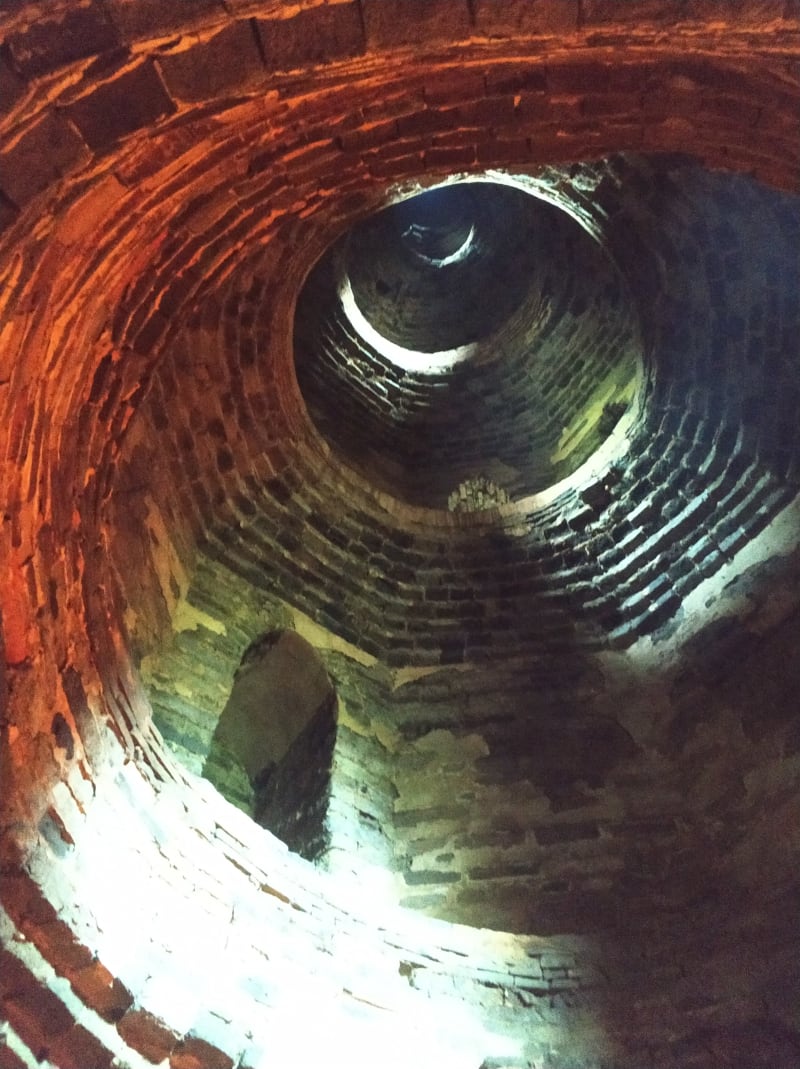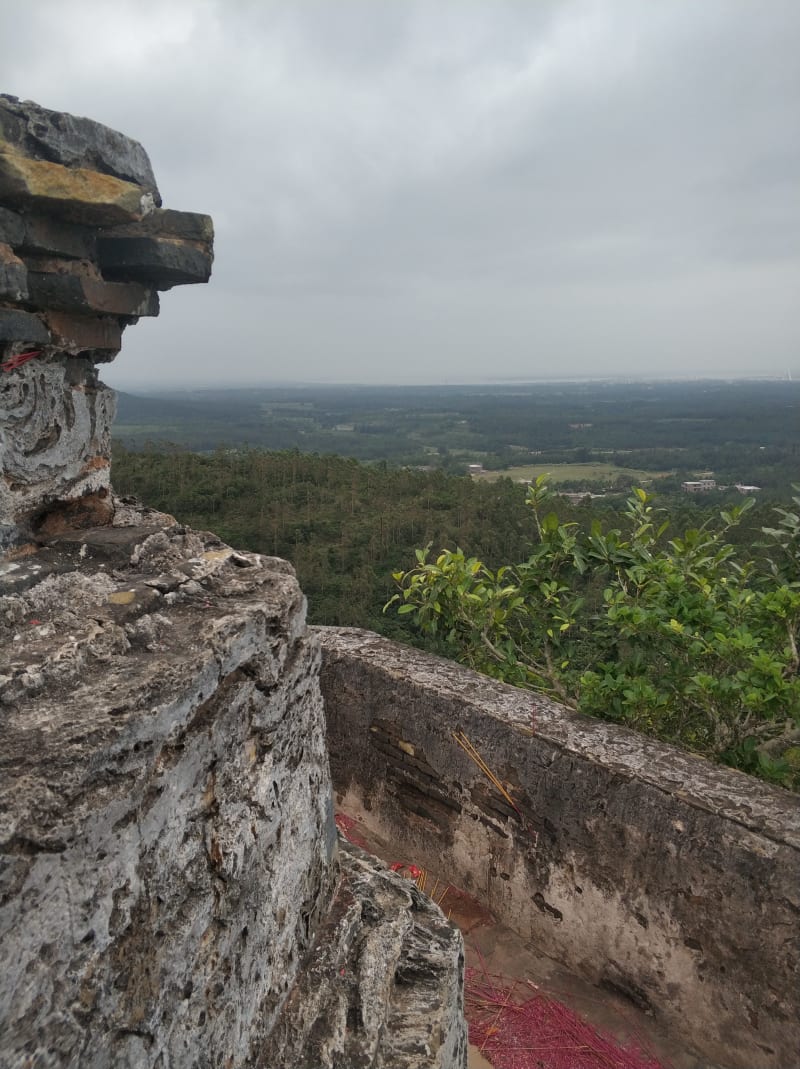 The coast near Doubing Tower is undeveloped and quiet (Xinbuhai/ Gecun Gang). Here are some photos.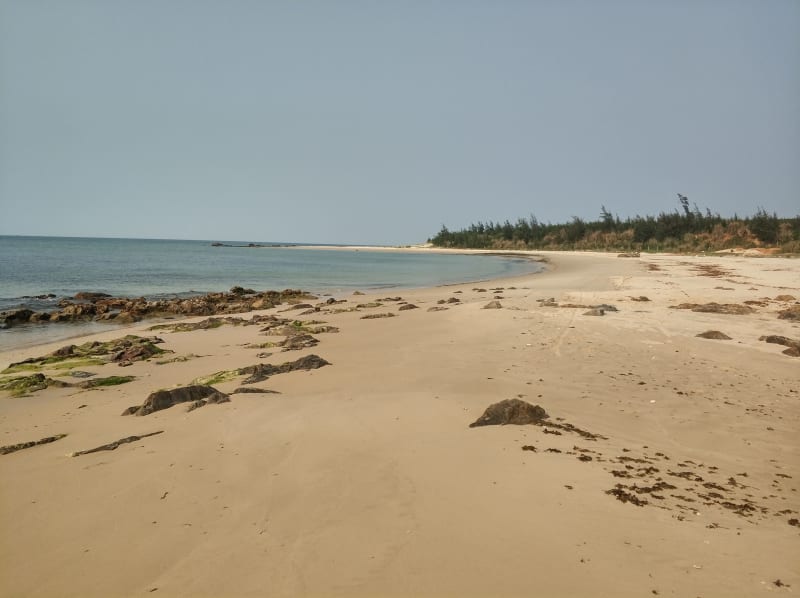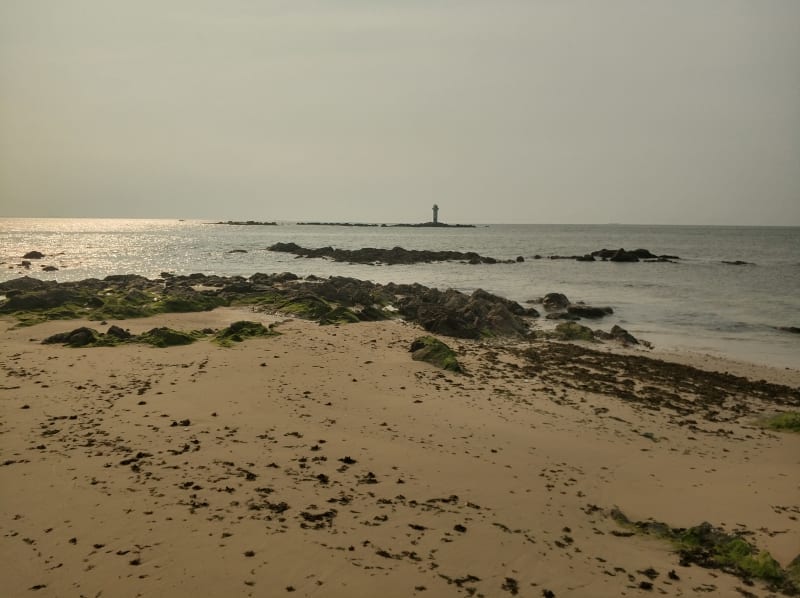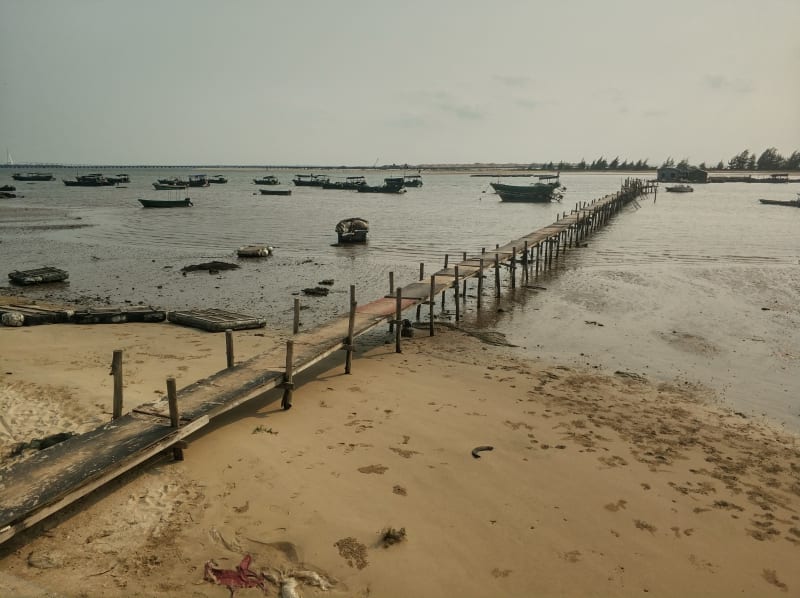 Wenchang Cycle Path
Chinese name: 百里绿道 Bǎi lǐ lǜ dào. The start point is located on the eastern edge of Wenchang Town, just off to the south of the road that heads east to Longlou Town.
The cycle path takes you past fish farms and through the Wenchang mangrove.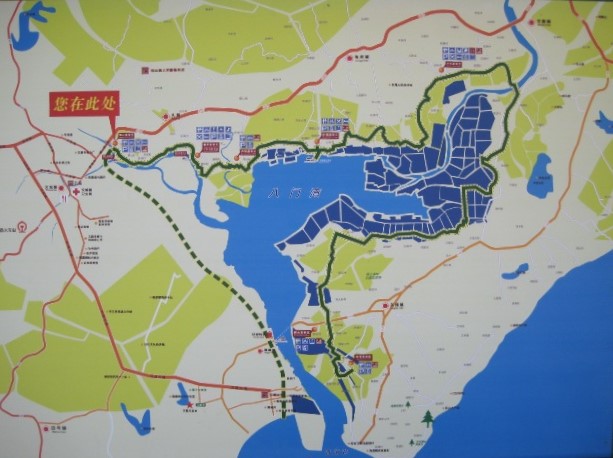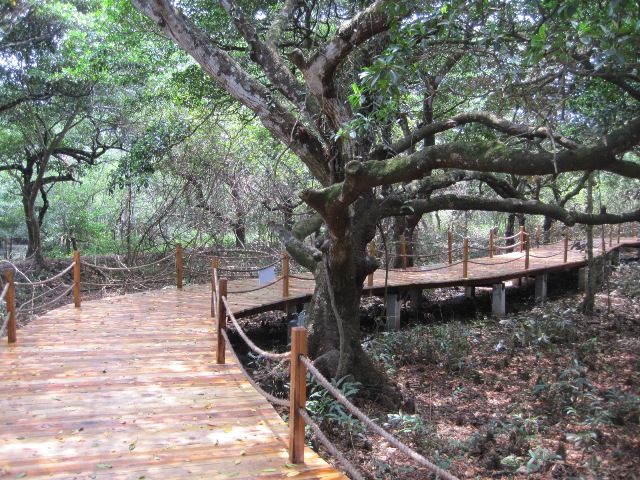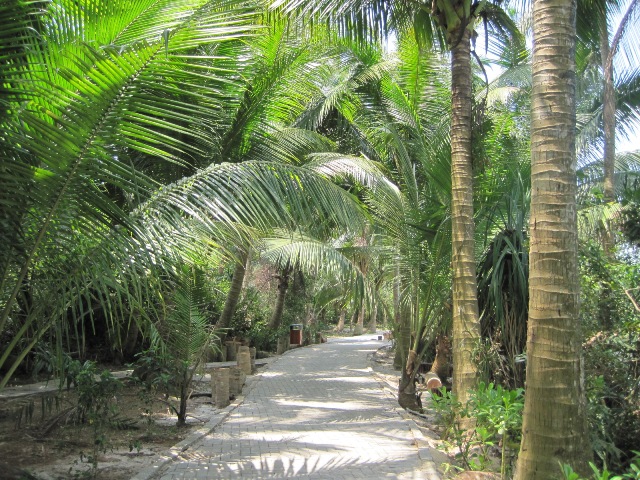 photo Gallery
Road Trip around North of Wenchang.
2020 Update: A lot of new roads have been build in this area, so getting around is much easier.
Date: 2010.
North East Coast of Hainan. Closest village - Shanya, closest town - Jinshan
Distance from Haikou 80km. Travel time 2 hours
Explored a little more of the North West of Hainan Island. The road to the coast from Jinshan is particularly bad, even by Hainan standards. The 15 or so kilometers takes ages because the road is so bumpy, it's impossible to travel more then 20km/h. At one point we got stuck in some strange grey sand. Our attempts to dig ourselves out were failing when a couple of local villagers passed by. I was expecting them to watch and laugh at the stupid foreigners. Thankfully they were sympathetic and called a group of friends to push the van to freedom.
A large field of papaya trees caught my attention because the majority of the tree were growing horizontal as opposed to straight up. An unusual sight, I guess caused by strong coastal winds. The beach was clean except for masses of washed up coral. I think the small fishing boats break the coral. Judging by the amount of coral on the beach there must be some fairly substantial reefs out there.
Photo Gallery
Qionghai
This area, centred on the city of Qionghai (Hainanese Heng Hai, pronounced "Heng High"), is emerging as a rival to the Southeast Coast (namely Xinglong Hot Springs), siphoning off some of the tourist traffic (especially Chinese tourist groups) that makes its way single-mindedly from Haikou to Sanya.
Boao Town
Boao is a small beach-side town in Hainan. It is roughly half way down Hainan's East coast, near to Qionghai City.
Boao (Hainanese Bak Ngao, pronounced "Buck Gow") wins a lot of local traffic on the strength of its role as permanent site of the Boao Forum for Asia. Recognising Boao's distinctive dynamic, the Hainan provincial government has now more than doubled the area of the "Boao Aquapolis", expanding it southward to take in the coastal beaches of Wanning city.
This is the Sea Story Bar on Boao beach. The bar is decorated with wood from old local wooden boats and washed up coral.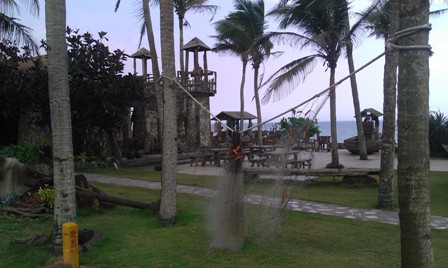 These are photos of the Cai Ancestral Home. It is a few kilometers west of Boao town, next to part of the river.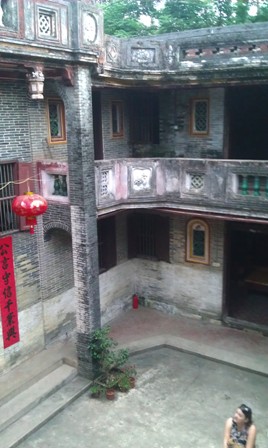 Large Buddhist temple just outside Boao town on the delta. Built in 2005.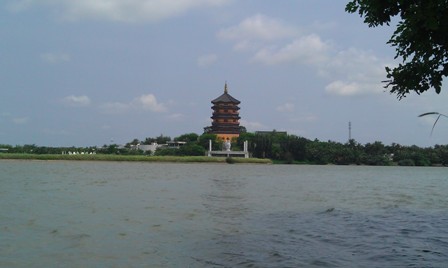 Trying out some kayaking in the Boao delta area.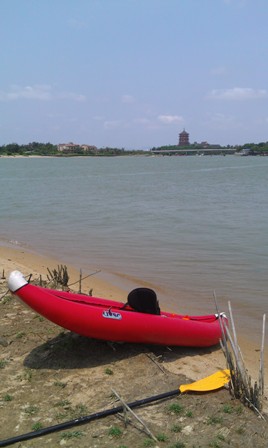 Wanquan River Rafting And Abseiling
There is a Chinese company who provide several outdoor adventure activities such as abseiling and rafting. You can expect to see a beautiful inland area of Hainan. You will be taken along the river to a spot in the jungle where you will abseil down waterfalls, swim in lagoons, and jump from rocks into the deep pools below. You can also raft down the river past minority villages, dense tropical jungle and Betel Nut plantations.
Pictures of Wanquan Outdoor Activity Centre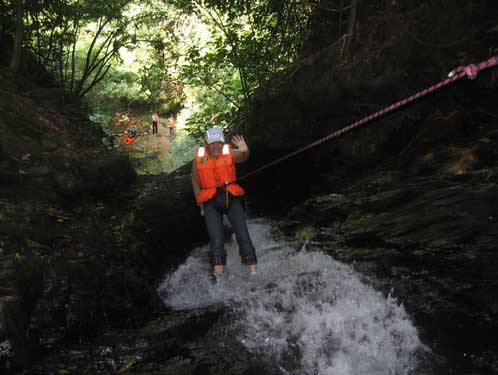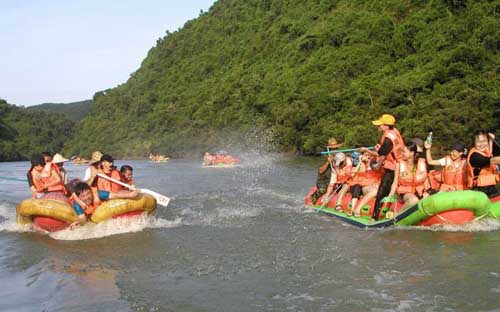 Review of a trip to the Wanquan Activity Centre
I wasn't sure what to expect from the organisation but it turned out to be an excellent day.
The area is fairly remote and the river is surrounded by tropical jungle, lots of Betel Nut plantations and small mountains. There are also a number of waterfalls feeding into the river.
The guides were friendly and seemed to be having fun themselves. We took a boat upstream and followed a steep trail through the jungle. We abseiled down a crevasse into the stream below and worked our way down the stream. This involved a combination of jumping into lagoons, floating/swimming through pools and sliding down wooden poles. We arrived at the top of a large waterfall. It looked even higher when peering over from the top. Abseiling down through the waterfall was an excellent new experience for me, pausing half way down to look around and take in the moment. Everyone was buzzing from the mixture of adrenaline and picturesque tropical environment.
After a late lunch we rafted for an hour or two down the river. The river was fairly calm so this certainly wasn't white water rafting. However it was livened up by the water-fight with the group of random Locals who happened to be rafting at the same time.
Wanquan River Rafting Company 万泉河漂流
海口
琼海万泉河休闲漂流有限公司
海南省海口市海景湾花园
销售部:66762516 66700699 传真:66755127 联系人:
琼海
琼海万泉河休闲漂流有限公司
海南省琼海市东风路88号
电话:62819013 62818496 传真:62821447 联系人:王先生 13337636289
三亚
琼海万泉河休闲漂流有限公司三亚办事处
海南省三亚市新风路金河公寓B栋15C
电话:88267554 传真:88267554
联系人: 蒲先生 13307620279
景区
万泉河神鳌峡谷风景区
海南省琼海市烟园水电站
电话:13707539866 传真:62953055 联系人:曾先生 13178996735
九牛
海南九牛户外拓展俱乐部有限公司
海南省海口市景湾路海景湾大厦22层
电话:66743222 传真:66751779 联系人:张先生 13976872290
百运
合作单位:海南百运旅行社有限公司
海南省海口市景湾路海景湾花园竹苑别墅
电话:66799679 传真:66751779 联系人:陈小姐 13136003629
投诉
投诉电话:66707099 13907568659
Hainan Jungle on Discovery Channel's Man v Wild TV Show
The Discovery Channel's TV series 'Man vs Wild with Bear Grylls' filmed an episode in late 2009 about survival in the Southern Chinese jungle. Although never mentioned in the episode, it was actually filmed in the central area of Hainan. Central Hainan is the least developed part of the island and some areas are still thick with jungle and rainforest.
Judging by the scenery, I believe some of it was filmed around Wanquan river. I recognise some of the scenery from the Wanquan Outdoor Activity Centre. The centre does a jungle exploration activity that will take you to some of areas seen in this video.
Xincun Town Bay 新村镇
Xincun is a small town in Lingshui County. The peninsula provides a protected bay where many fisherman have set up home. Some have built floating houses and restaurants.
The peninsula is also the location of the popular tourist attraction Nanwan Monkey Island. The cable cars that can be seen in some photos lead across the water to Monkey Island.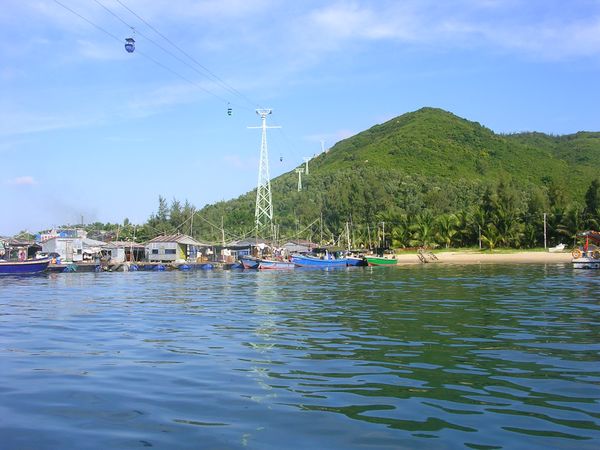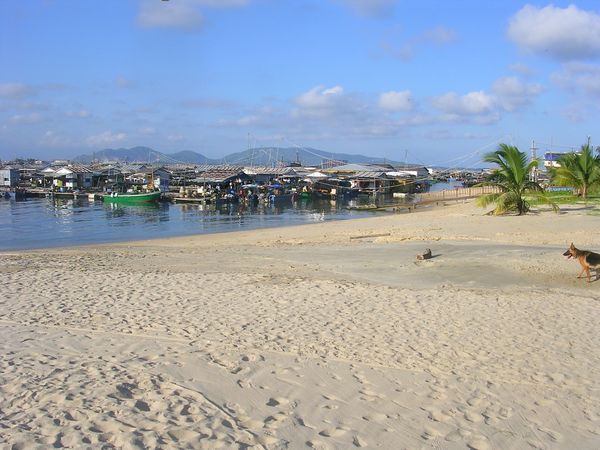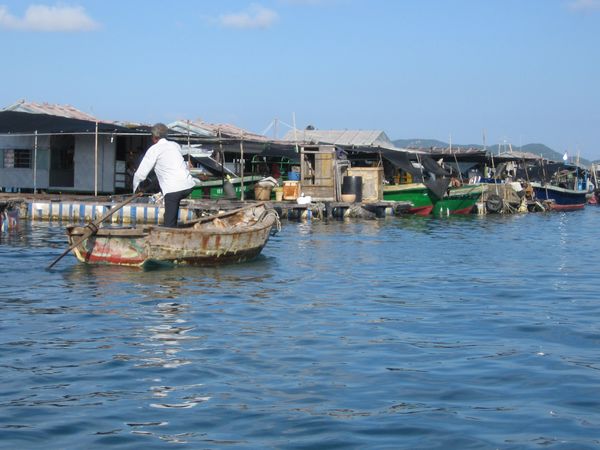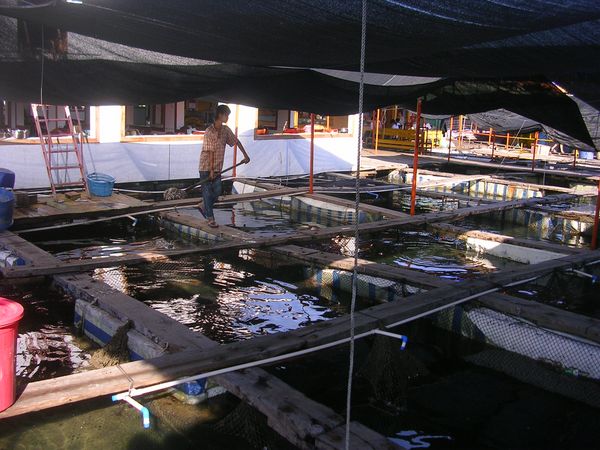 Diaoluoshan Hainan Provincial Nature Reserve
Chinese name: 海南吊罗山省级自然保护区 Hǎinán diào luó shān shěng jí zìrán bǎohù qū
Lingshui County (陵水县)
Object of protection: Tropical rainforest ecosystem
Area (ha): 18,389
Home to the Feng Guo Waterfall (枫果瀑布), a large waterfall hidden away in the mountains. The road from Diaoluo Mountain to Qiongzhong is one of the more remote roads in Hainan.
As the pictures show, it is a lush rural landscape. The final picture is of Fengguo Mountain Waterfall (枫果山瀑布), which is next to Diaoluo Mt.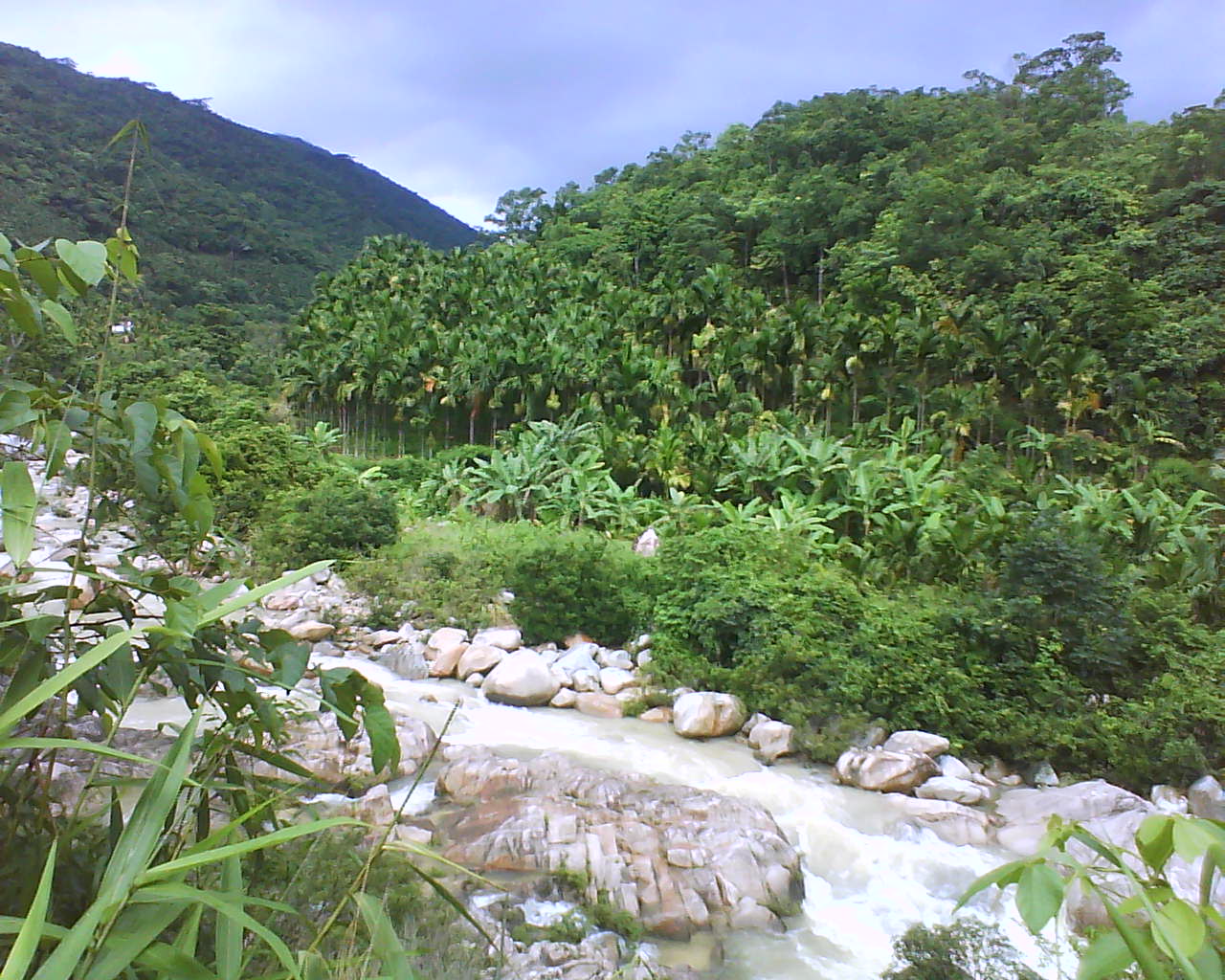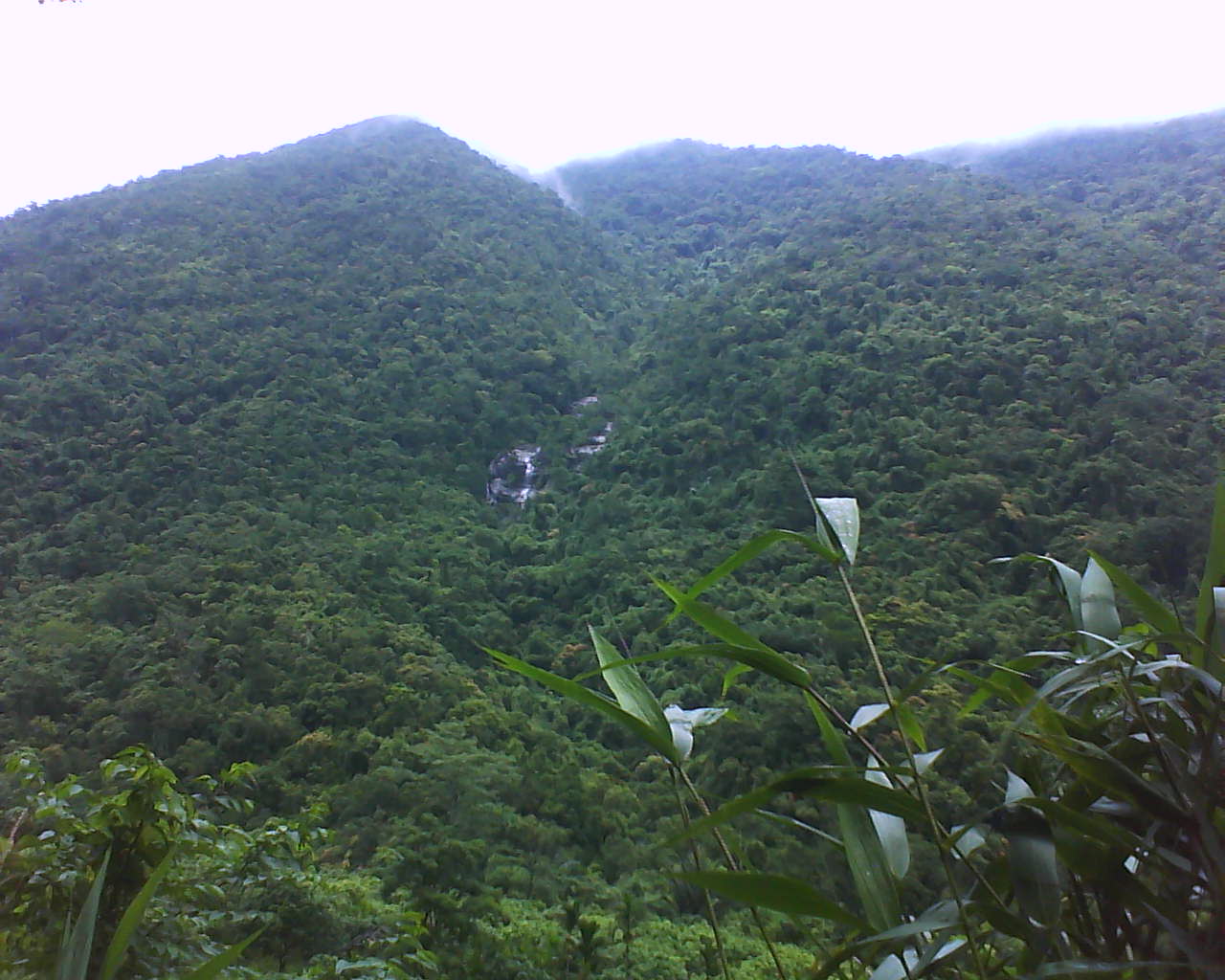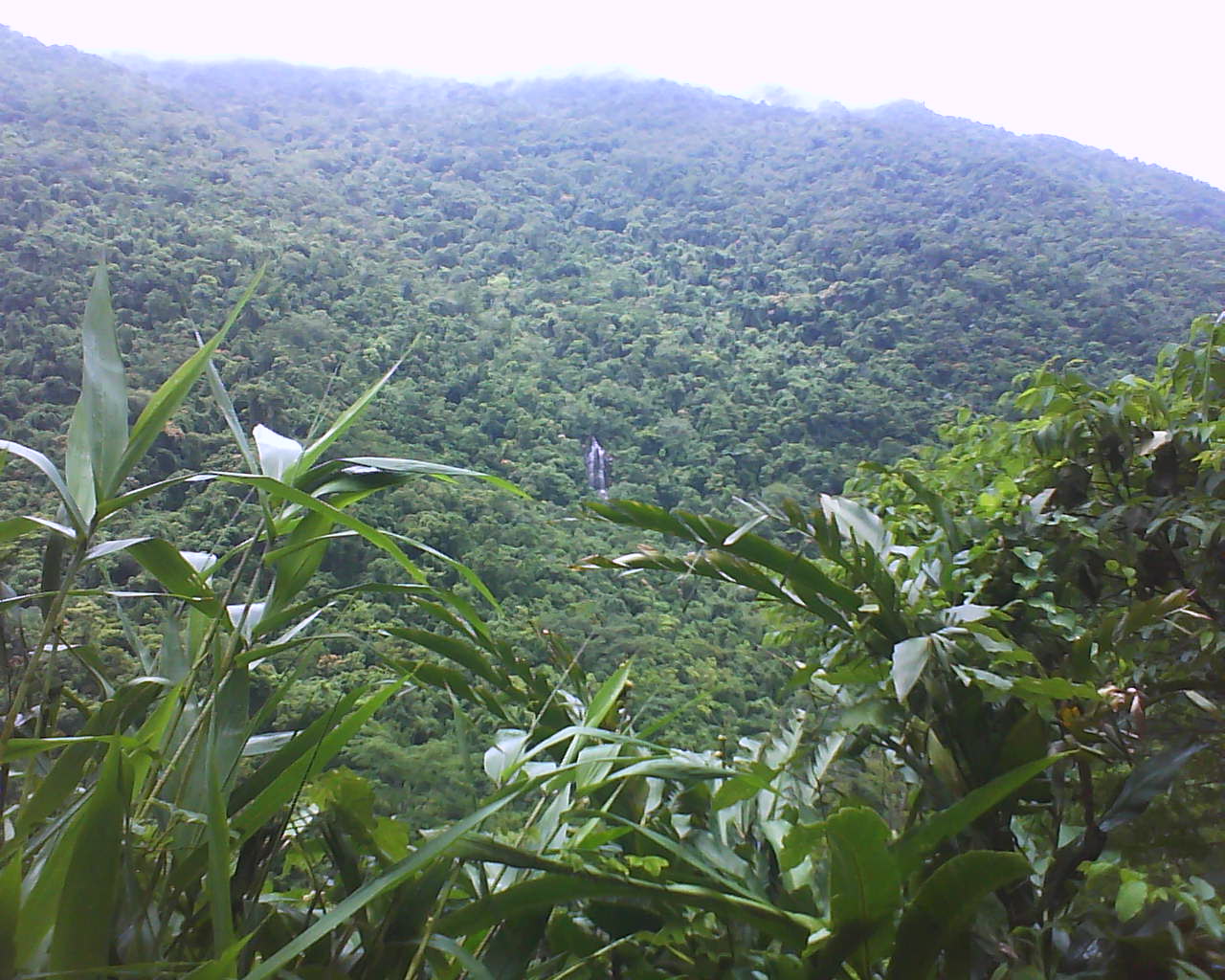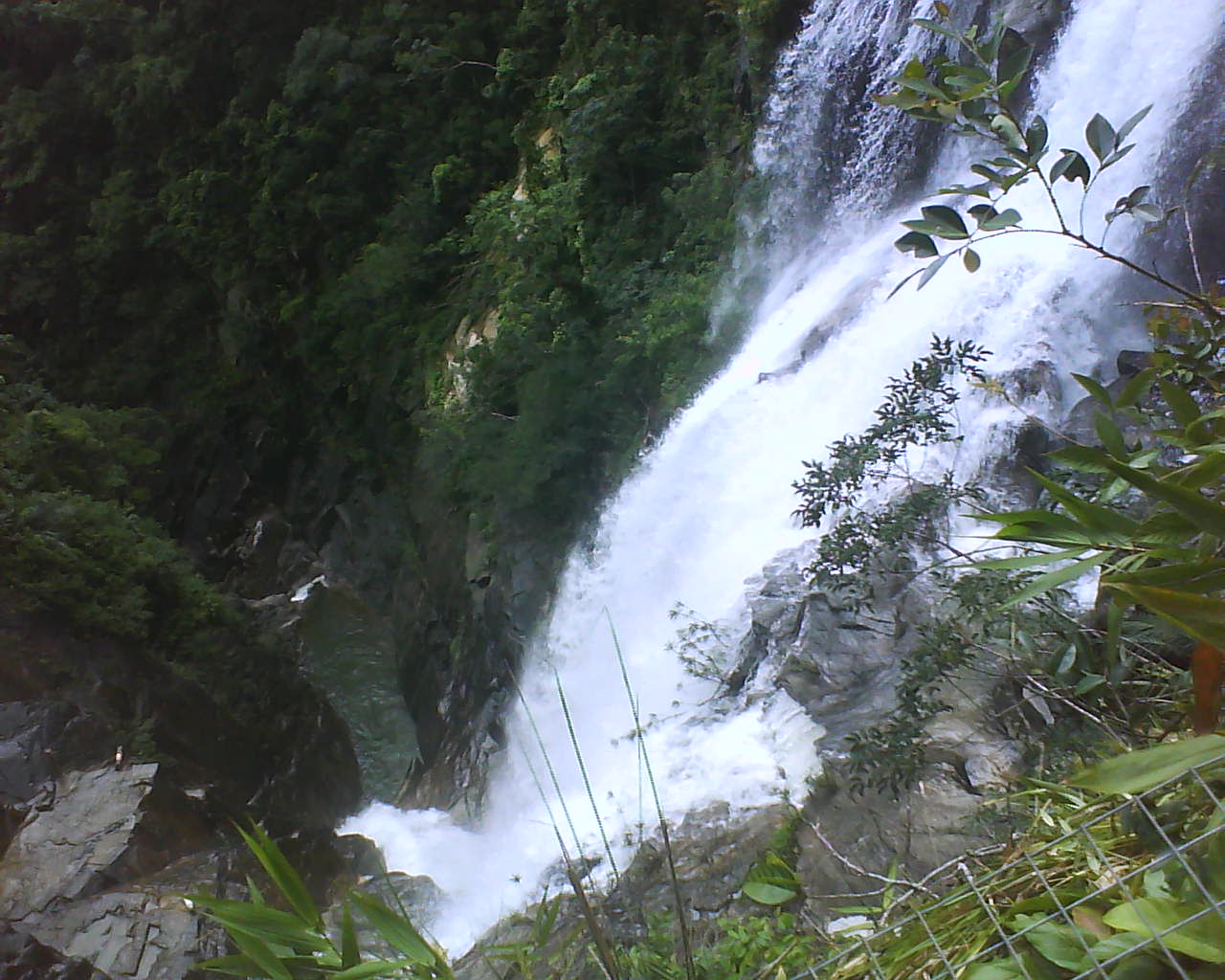 Shimei Bay 石梅湾
Another nice beach on the east coast of Hainan, south of Wanning town.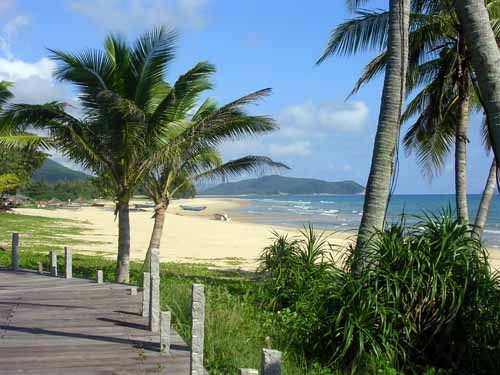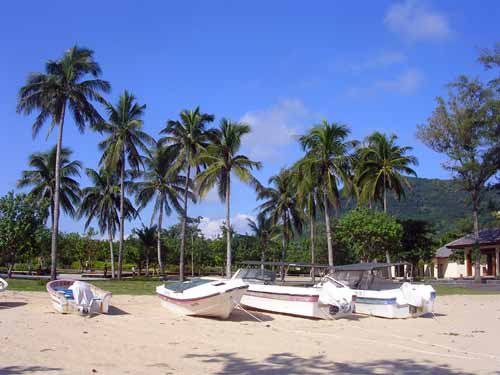 Riyue Bay 日月湾
Just south of Shimei Bay in Wanning Country is Riyue Bay.
Riyue Bay has become a surfing hot-spot and is home of the China National Surfing Team.
To find out more see our surfing Hainan page:
Hainan Dazhou Island 海南大洲岛 Hǎinán Dàzhōu Dǎo
Located south east off the coast of Wanning town 万宁市 Wàn níng shì, Dazhou Island is Hainan's biggest coastal island. It is also the last undeveloped islet in Hainan. It consists of 2 islands; the smaller north land mass and a bigger southern area connected by a 500 metre sand bar. It is a protected National Park.
Total surface area of Dazhou island is 4.36 sq km.
It has 3 peaks, the highest being around 290 metres.
5km off the the coast of Wanning county.
Getting there:
From Haikou city catch the bus to Wanning from the east bus station. Buses are every 30 minutes between 08:00 and 19:00. Ticket prices range between 20-40 RMB. At wanning bus terminal take a minibus to Wuchang town 乌场镇 Wū chǎng zhèn, ticket price 2 RMB. Then, rent a boat from locals to Dazhou Island. A fast boat will cost about 300 RMB return, while a ordinary boat would cost about 250 RMB return.
You can also get a bus to Wanning bus terminal from Sanya (bus every 30 minutes between 07:00 and 18:00, ticket price around 25 RMB). Then follow instructions as above.
Food and Drink:
Follow local fisherman on the island to find food. There are some small food stalls selling some unusual seafood. Accommodation:
The best option is to bring your own tent. It may be possible to persuade fisherman to allow you to sleep in the simple shacks.
Notes:
You should bring enough drinking water.
Photos: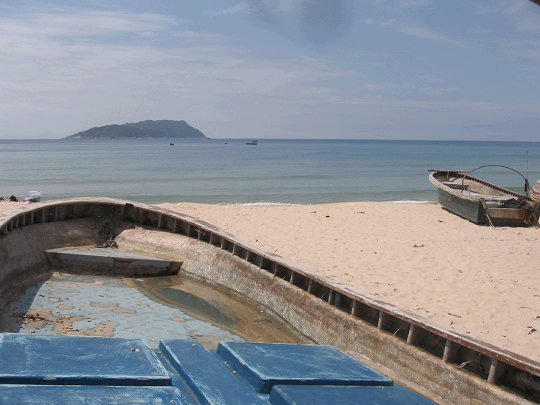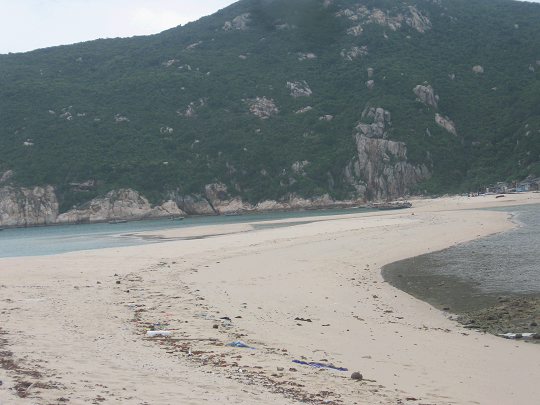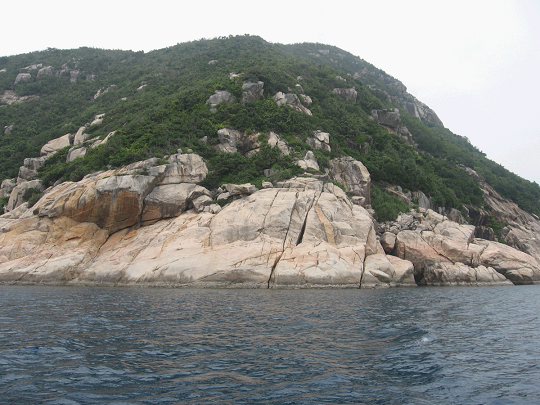 Wuzhishan Mountain Nature Reserve
NOTICE: Wuzhishan Mountain Nature Reserve is currently closed to foreigners!!!
Wuzhishan MountainWuzhishan is the highest point in Hainan. It reaches 1867 metres. It is situated in central Hainan, about 30km from Wuzhishan Town. The name comes from its five peaks.
Name in Chinese: 海南五指山国家级自然保护 Hǎinán wǔzhǐshān guójiā jí zìrán bǎohù qū. Or more simply just 五指山 wǔzhǐshān, which means Five Finger Mountain.
It is a protected nature reserve and contains primitive rainforest. It costs 15 RMB to enter the area.
To get to Wuzhishan by public transport you first need to get to Wuzhishan Town. From the main Wuzhishan Town bus station you can get a bus to Shuiman Village (about 10 RMB). Then you can get the shuttle bus from Shuiman to the mountain (5 RMB). Climbing Wuzhishan Mountain
It took me about 4 hours to climb to the highest peak and 2-3 hours to get back down. Near the start of the trail is a junction.
The left trail along the stream is quite short (about a 30 minutes stroll) and will take you to a waterfall. This trail is perhaps the most scenic part of the mountain and is worth exploring even if you don't want to climb the whole mountain. It is a good short trail to experience some of the rainforest.
The right hand trail leads to the top of the mountain. The climb is fairly steep. I often needed to use all 4 limbs and there are a few ladders. Most of the trail is tree roots and there are a few potentially dangerous parts that have steep drops off the side. Depending on the weather, you may get excellent views from the top. Unfortunately, there was a lot of rubbish dumped on the trail. This ruins the natural environment to some degree.
Wuzhishan Rafting (五指山漂流)
There are two companies that provide rafting in Wuzhishan.
Wuzhishan Tianhu Rafting Company:
Telephone 电话: 0898 8655 9288
Photos of Wuzhishan Mountain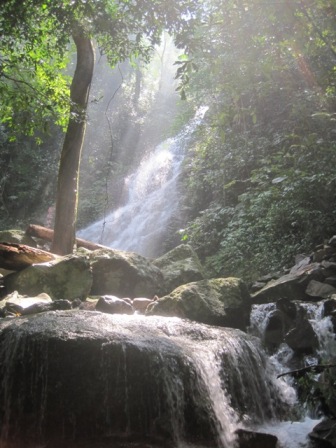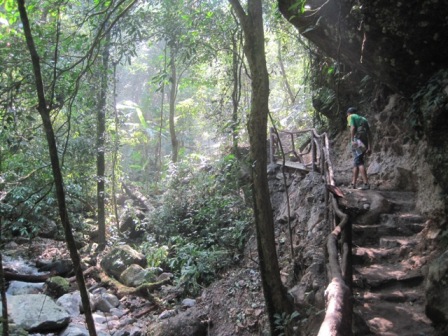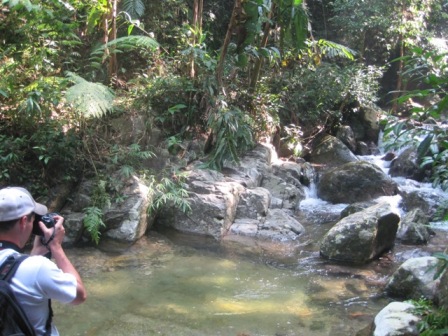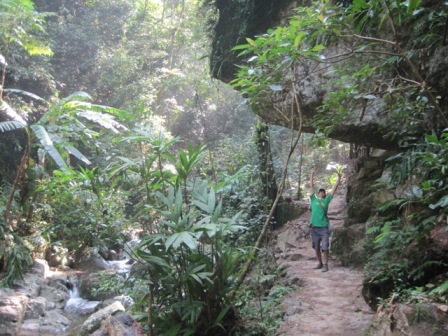 Central Hainan
The mountainous centre of Hainan is certainly worth exploring. Travel to the centre of Hainan and you can find beautiful rural landscapes, mountains, waterfalls, small towns, and minority villages.
The centre includes: Qiongzhong, Wuzhishan, Baoting, & Baisha Counties.
If traveling from north to south, Qiongzhong (137 km from Haikou) is when you really start to enter the centre of Hainan. Travel on to Wuzhishan (a further 75 km south) and perhaps try some trips into the surrounding mountains and villages. Baoting is an attractive town further south. The nearby hot springs at Seven Fairy Mountain make a good relaxation place after a hard days cycle. Each of these 3 towns have cheap Chinese hotels to stay at.
The Wuzhishan mountain is currently closed to foreigners, a good alternative is the Seven Fairy Mountain just north of Boating Town.
Driving the Central Highway
Part 1
Decided to take the long way back from Sanya to Haikou. Drove along the central 'highway' which takes you through the mountainous centre of Hainan Island. The scenery was incredible. The road is very winding and goes up and down the mountains and gives rise to some great views. It passes through some towns and many small villages. You can spot simple buildings constructed from mud and wood. I believe these belong to some of the minorities of Hainan. Had a quick stop at WuZhiShan and also made a slight detour to BaiHua Waterfall. It had started to rain a little and so the path leading up alongside the waterfall was wet. Unfortunately this seemed to be the signal for leeches to appear. Removing them from feet and ankles was not a pleasant experience. Must return to BaiHua Waterfall on a dry day. Overall the journey was fantastic and certainly worth the extra time. No trip to Hainan would be complete without a journey through the centre.
Part 2
This time on the way back from Sanya to Haikou I turned left off the central highway at ShiYun and headed towards HongKan Waterfall. The mountain formations around here were spectacular. There were some good looking waterfalls in the valley below and a couple of very large waterfalls at HongKan. No road led to them and there wasn't even an obvious foot trail so we had to admire them from a distance. Will have to return to this spot when I have a few days spare and attempt a hike to the base of the waterfalls, hopefully the jungle won't be too thick.
Part 3 - Sandao Area
Spent a few days in the south of Hainan exploring the area around Sandao town (三道镇, Sān dào zhèn). We found some new bicycle and kayak routes. The Hekou river which feeds into the Chitian reservoir was particularly fun to explore. We found old broken dams and some fun roads that lead the back way into the Yanoda Tropical Rainforest Park.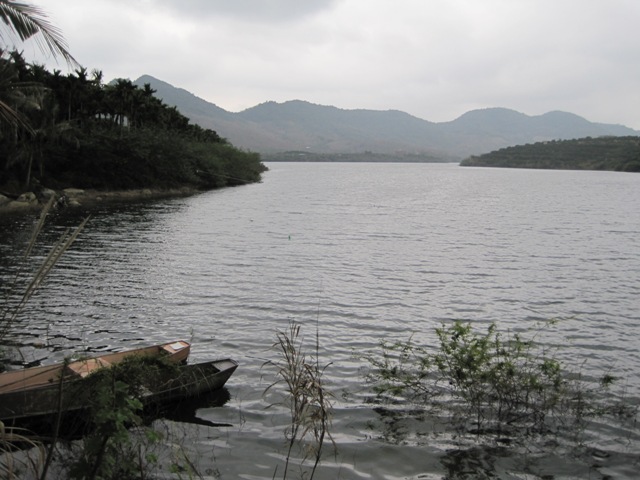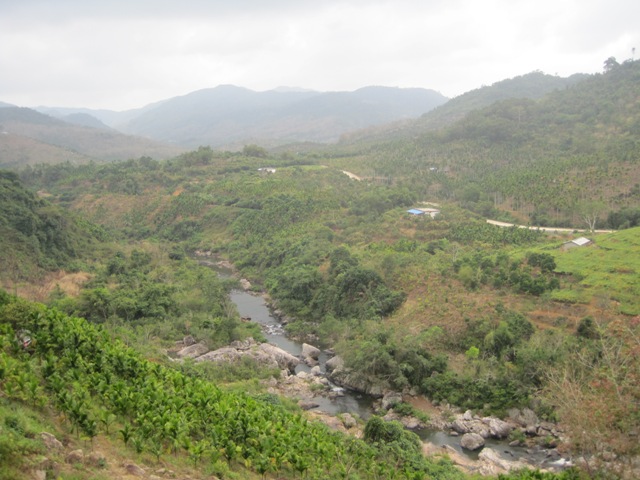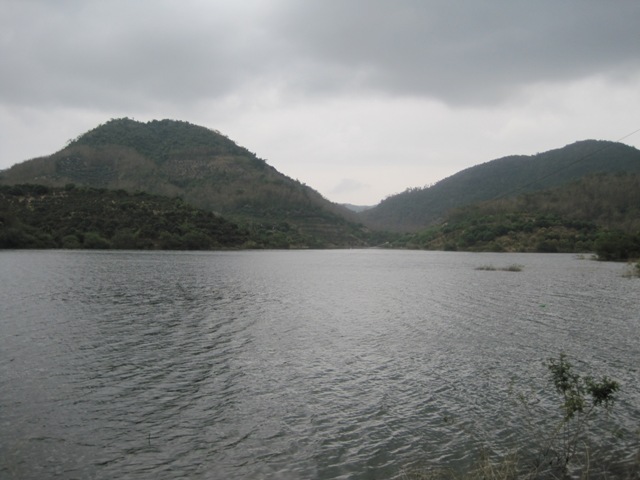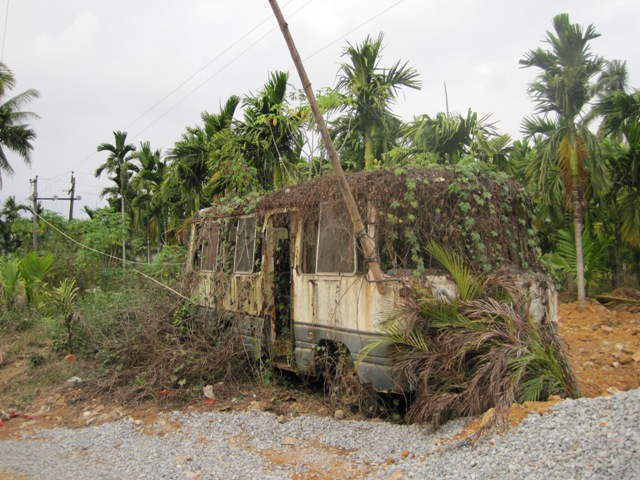 West Hainan
The West Coast and South-West Coast of Hainan is one of the least travelled places on the island. Poor and left behind by development on other parts of Hainan, somehow it occurs to very few people to come and have a look. Which, for some, is all the more reason you should want to! Western Hainan is inhabited mainly by the Li (Hlai) minority and has its own brand of natural beauty, including some of Hainan's only remaining virgin forests. Includes Changjiang, Dongfang, and Ledong Counties.
Places of interest:
Jianfeng Ridge and Forest Reserve.
Bawang Nature Reserve, home of the Hainan gibbon.
Exian Mountain (俄贤领)
Daguangba reservoir (大广坝水库 dàguǎngbà shuǐkù)
Dongfang City
Dongfang is located on the west coast of Hainan. It has an industrial port used to transport the ore mined from surrounding area.
In the 1940s there was a Japanese POW camp here, holding Chinese, Austrailian, and Dutch prisoners:
http://www.mansell.com/pow_resources/hainan.html
Emperor cave (皇帝洞 Huángdì dòng) & Wangxia Underground Palace (王下地下宫 Wángxià dìxià gōng)
Emperor cave is a large limestone cave, 60 kilometers from the county capital Changjiang. Extending from west to east, the entrance is 60 meters wide, about 130 meters deep, 25 meters high, covering about 7,800 square meters. It can accommodate thousands of people. Inside the cave are colorful stalactites and shapes. Archaeological experts have collected Neolithic artifacts from inside the cave, some are displayed at the Hainan Museum in Haikou. Outside, the cave is surrounded by mountains, range upon range of peaks, and the Nanyao river. The Underground Palace is also a karst cave with strange stalactite shapes and colours.
Nanyao River (南尧河 Nányáo hé)
The second largest tributary of the important Changhua River. Length of 41 kilometers, drainage area of 371 square kilometers, with a total drop of 1347 meters. Nanyao river is very scenic because it runs through a karst valley (hence the abundance of caves in the area). Part of the river is known locally as 'Mural Corridor' (十画长廊) because of the colourful karst cliffs towering over the river.
Chinese travel blog with many photos of area https://www.mafengwo.cn/i/20101090.html
Qicha Township Kapok Trees (七叉乡木棉 Qīcha xiāng Mùmián)
Qicha Township is just west of the national park and has many farm terraces and Kopok trees. Kapok, or Ceiba pentandra, is an emergent tree of tropical rainforests. It can grow up to 70m tall. It flowers red and orange in the spring.
Qicha Hotspring (七叉温泉)
From Changjiang head to Qicha Town. About 1 m after the fork in the road you can school the secondary school. About 50m further down on the right is a 40sqm outdoor pond. The natural spring may not be clean or suitable for use.
Trip to Changjiang County
After some research with Google Earth we planned a trip to Changjiang County (昌江县 chāngjiāng xiàn) in the west of Hainan. Changjiang is almost shaped like a wedge that spans from the lowland coastal area to the mountains near the centre of Hainan. The coastal area is home to Qizi Bay (棋子湾 qízǐ wān) and Changhua Town (one of the oldest settlements on Hainan). This area did not offer too much interest and we spent a minimum time exploring here. The real purpose of the trip was to head inland to explore the mountains, caves, and rivers.
It was soon apparent that Changjiang has rich resources of stone, particularly limestone. This limestone helps form some of its dramatic landscapes. The old west coast railway stops in Changjiang and trains fill with rock from the huge quarries there. On the way into the mountains there was much evidence of the mining industry. We spotted a conveyor belt several kilometers long, snaking through the trees like a roller coaster. It's destination was a limestone mountain near Qicha township. Half the mountain had already been transported away along the conveyor belt, the grand scale of the mining was awe inspiring. Even with all the mining, Changjiang was still an beautiful place.
Further inland the scale of the mining diminished and gave way to winding mountain valley roads, minority villages, and banana plantations. One area we particulary wanted to explore was Exian Mountain (俄贤领). Exian is a dramatic limestone mountain ridge the leads down to the Daguangba reservoir (大广坝水库 dàguǎngbà shuǐkù). The road to Wangxia Village has a particularly good view down the ridge to the water (see photos). We found a way to the bottom of the ridge and took out the bikes and kayaks for some exploration. We also found the Emperor Cave (皇帝洞 Huángdì dòng) and Hongshui village (A Li minority village). Hongshui village is being modernised, but still has the greatest number of mud houses I have seen anywhere on Hainan.
Check out this link if you want to read more about Hainan Li mud houses:
http://www.cjvlang.com/Photos/hlaihouse/hlaihouse.html
Photos of Changjiang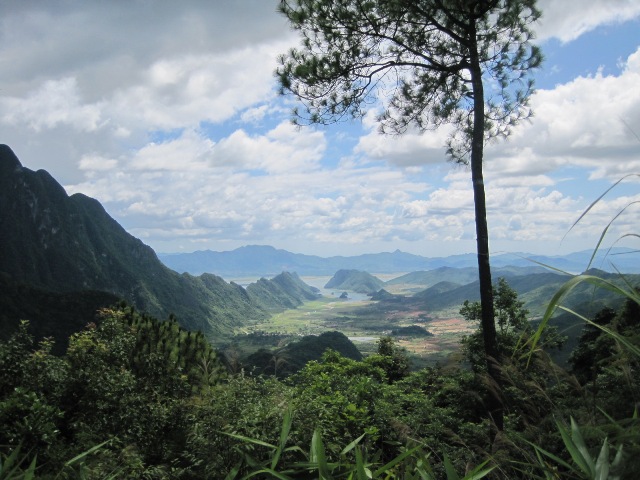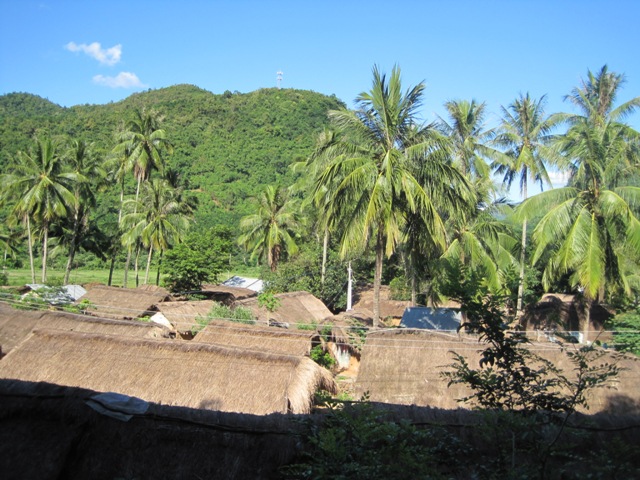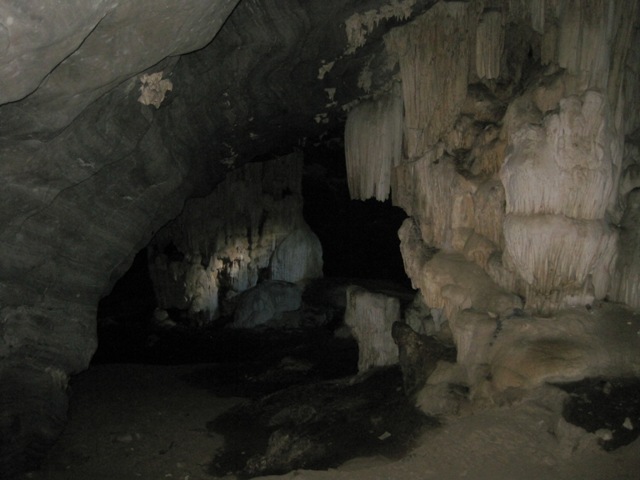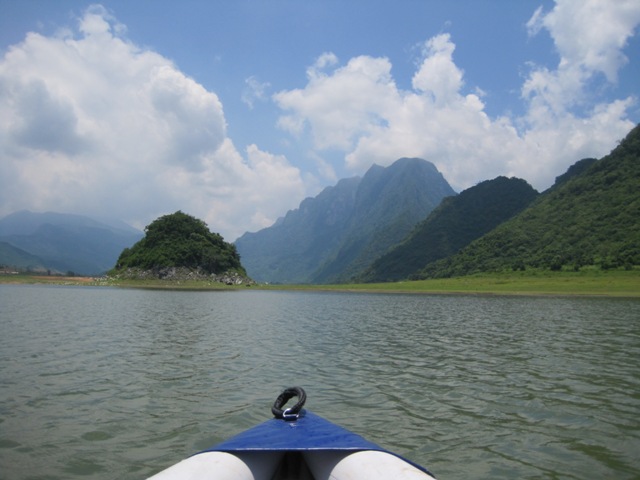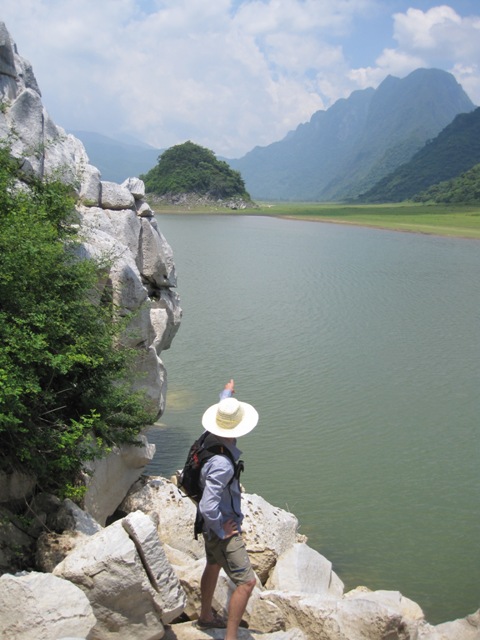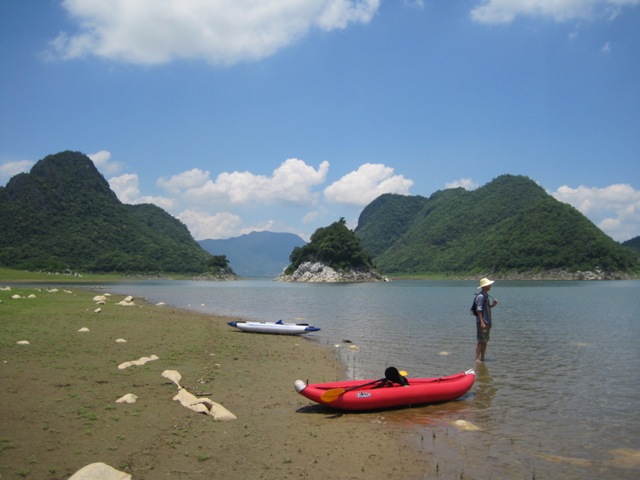 Jianfengling Nature Reserve, Hainan
Chinese name: 海南尖峰岭国家级自然保护 Hǎinán jiānfēng lǐng guójiā jí zìrán bǎohù qū
The main object of protection is its tropical forest ecosystem.
Jianfengling Nature Reserve is located in the southwest of Hainan, spanning Ledong (乐东县) and Dongfang (东方) counties. The geographical coordinates are: longitude 108 ° 44 '~ 109 ° 02', latitude 18 ° 23 '~ 18 ° 52'.
It has an area of 20,170 (ha).
The nature reserve was founded in 1960, it was the first nature reserve in Hainan Province. In 2002 it was promoted to National Nature Reserve to protect its tropical virgin forest ecosystems. It is the lowest latitude tropical rain forest in China。
It is also one of China's most biologically diverse tropical forests.
Natural Environment
The protected area includes peaks, valleys, hills, and water basins. It has distinct wet and dry seasons, the rainy season is from June to October, dry season is November to May.
The average annual temperature is 19.7 ℃ and the annual average relative humidity is 88%.
Animal and Plant Resources
Notable plants include: Hainan cycads and Cyatheas
The park is home to 7 species of animal that are protected at the national level, namely Hainan Eld's deer, Hainan black gibbon, clouded leopard, peacock pheasant, the monitor lizards, Hainan Partridge, and pythons. It's also rich in butterflies, with as many as 449 kinds of species.
Jianfengling Reserve has a peak elevation of 1412 m. Vegetation varies with altitude. Below 800m you will find rain forests, above this level the forests turn into pine and alpine forests.
Information source: http://www.hainan.gov.cn
Photos of Jianfengling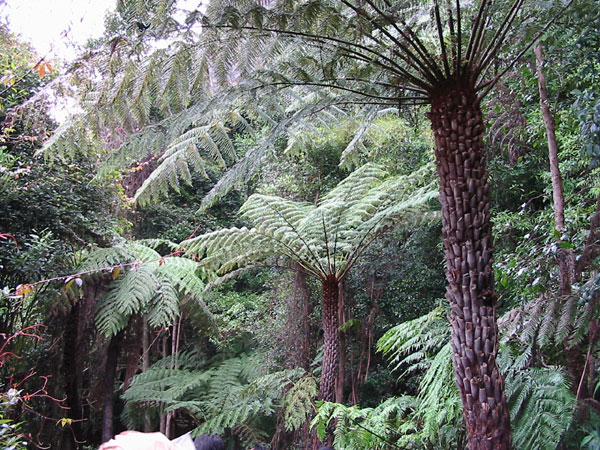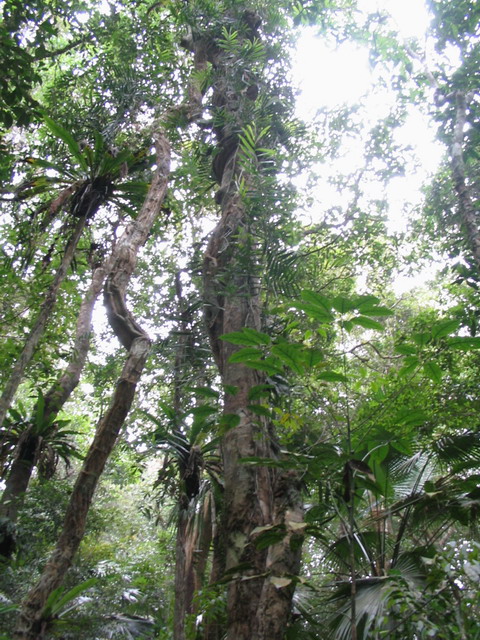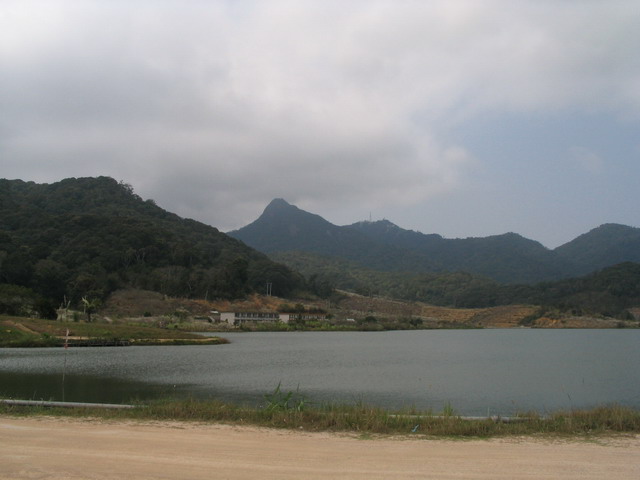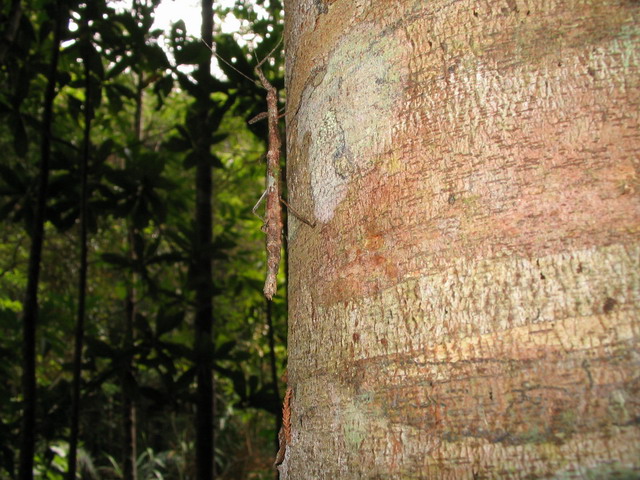 Hainan Bawangling Nature Reserve
Chinese name: 海南霸王岭国家级自然保护 Hǎinán bàwáng lǐng guójiā jí zìrán bǎohù qū
Location: Changjiang County (昌江县)
Main object of protection: Black crested gibbon and habitat
Area (ha): 29,980
Bawangling Nature Reserve is located in the southwest of Hainan in Changjiang County. It is one of the best preserved tropical forests in Hainan.
They are said to be over 365 kinds of animal species, including rare animals such as the Hainan Black Crested Gibbon, clouded leopard, black bear, deer, and monitor lizards. It is one of the few remaining homes of the black crested gibbon on earth.
The Hainan Gibbon is considered to be the world's rarest ape. Numbers are around 20-30. But there is still hope for the Hainan Gibbon; according to this article the population is increasing http://www.mnn.com/earth-matters/animals/blogs/newfound-family-offers-hope-earths-rarest-ape (updated 2020).
Back in 2003 Seacology.org (a nonprofit organisation) started a program to protect the Hainan Gibbons at Bawangling Reserve. They persuaded local villages to protect the Gibbon habitat by offering scholarships to village children. Find out more info on their website: http://www.seacology.org/project/96-china/.
Pictures of a very old tree in the Bawangling park: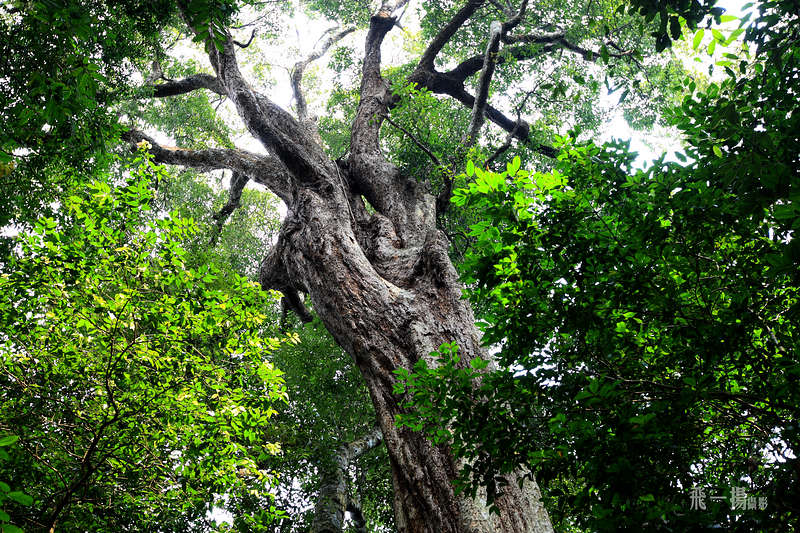 Hainan Bawangling Nature Reserve
Chinese name: 海南霸王岭国家级自然保护 Hǎinán bàwáng lǐng guójiā jí zìrán bǎohù qū
Location: Changjiang County (昌江县)
Main object of protection: Black crested gibbon and habitat
Area (ha): 29,980
Bawangling Nature Reserve is located in the southwest of Hainan in Changjiang County. It is one of the best preserved tropical forests in Hainan.
They are said to be over 365 kinds of animal species, including rare animals such as the Hainan Black Crested Gibbon, clouded leopard, black bear, deer, and monitor lizards. It is one of the few remaining homes of the black crested gibbon on earth.
The Hainan Gibbon is considered to be the world's rarest ape. Numbers are around 20-30. But there is still hope for the Hainan Gibbon; according to this article the population is increasing http://www.mnn.com/earth-matters/animals/blogs/newfound-family-offers-hope-earths-rarest-ape (updated 2020).
Back in 2003 Seacology.org (a nonprofit organisation) started a program to protect the Hainan Gibbons at Bawangling Reserve. They persuaded local villages to protect the Gibbon habitat by offering scholarships to village children. Find out more info on their website: http://www.seacology.org/project/96-china/.
Pictures of a very old tree in the Bawangling park: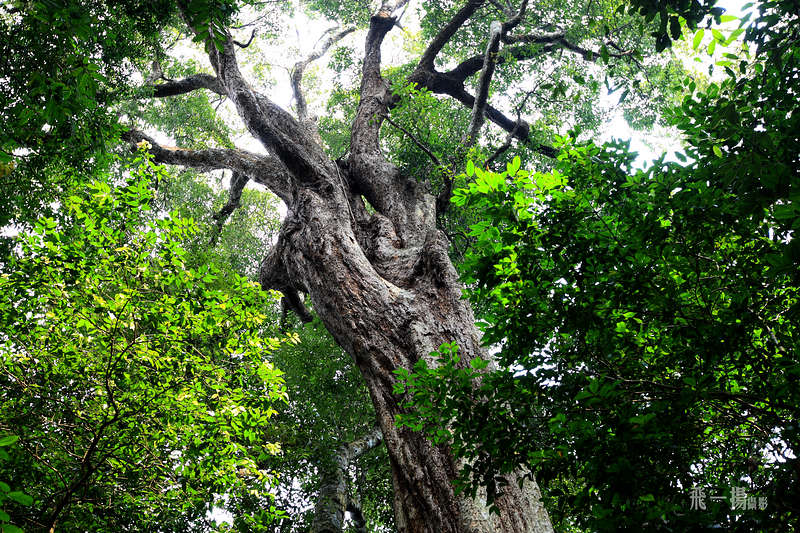 North West Hainan
This covers Danzhou (locally known as Nada), Lingao, Chenmai, and Dingan Counties.
The most prominent attraction in Danzhou is the ancient Dongpo Academy of Classical Learning, established in memory of the celebrated Song dynasty Chinese poet Su Dongpo, who was exiled here by the government. The main language spoken in much of this area is Linggao, not Hainanese.
Some Photo Galleries
Photos of a Housewarming in Lingao
Photos of a trip from Chengmai to Danzhou
Photos from around Danzhou County
Danzhou International Marathon
Since around 2010 there has been an annual international marathon in Danzhou County. Usually take place in December: http://www.danma.cn/.
Meilang Twin Pagodas
Chinese name: 美郎双塔 Měiláng shuāng tǎ.
Location: Meilang Village, Chengmai County, Hainan Island.
The twin pagodas were built in the early Yuan Dynasty, dating back over 800 years.
They were built to commemorate a local villager's two daughters. One of the daughters married and the other become a Buddhist nun.
The pagodas are beautifully carved, decorated with Buddha, lotus petal, elephant, lion, unicorn, tiger, unicorn, horse and auspicious patterns. They are both around 13 metres tall. They are amongst the best preserved Yuan Dynasty towers in Hainan and protected at the state level.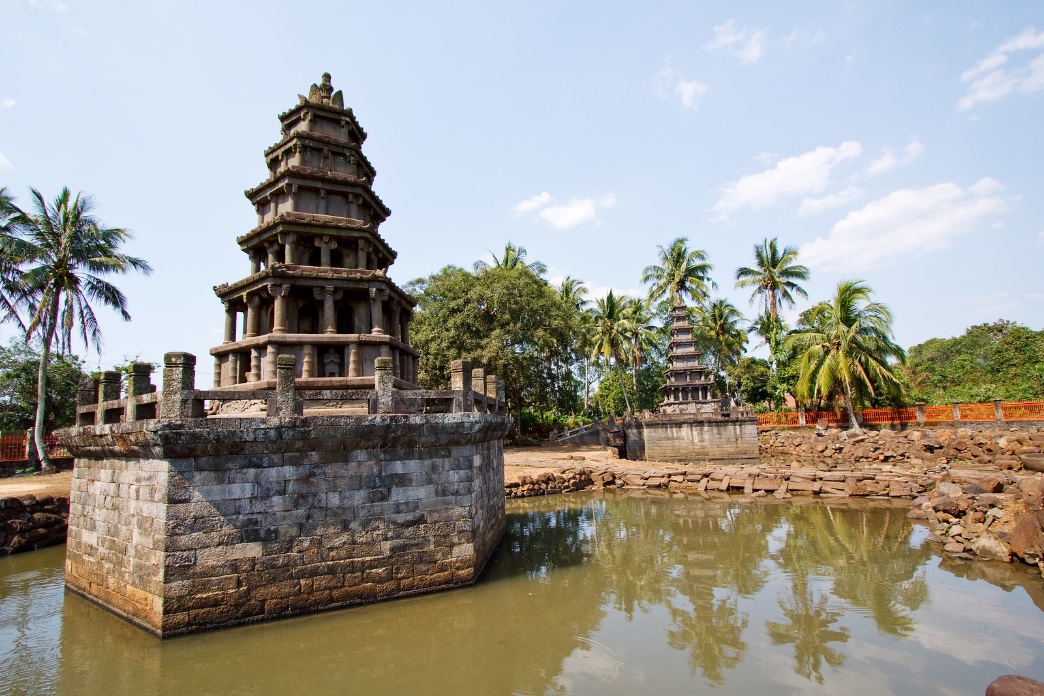 More photos: https://www.flickr.com/photos/hainanconnection/4391017917/
Yangpu Saltfield
This historic site is situated in the far north-west of Hainan, in Danzhou County.
The carved rocks are used to harvest salt from the seawater.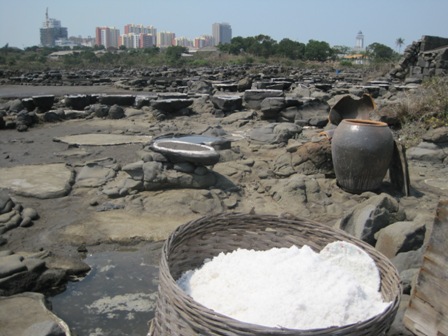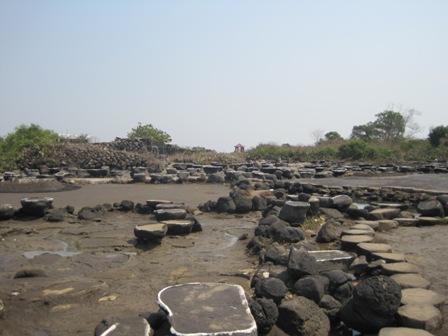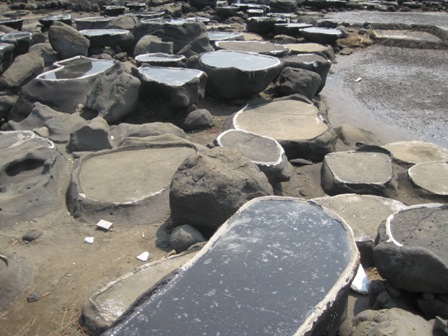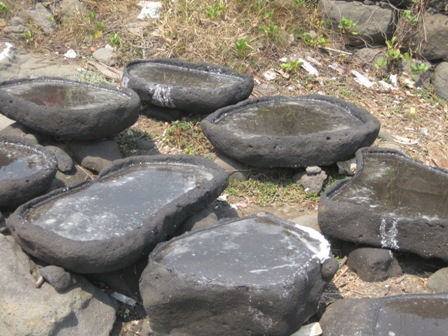 Boat Builders Linggao
Location: Diaolou Town (调楼镇), Linggao County.
A guest from New Zealand was interested in Hainan wooden junk boats, so we set about finding some wooden boat builders on Hainan. One of the places we found was a small fishing port town called Diaolou Town (调楼镇) in Linggao County. They build large wooden fishing boats using largely traditional methods. One of the reasons we were interested is because this boat building craft has pretty much disappeared from developed countries. The hard-wood used in these boats generally comes from Malaysia. The town itself is unremarkable expect for the density of Sea God temples next to the busy port.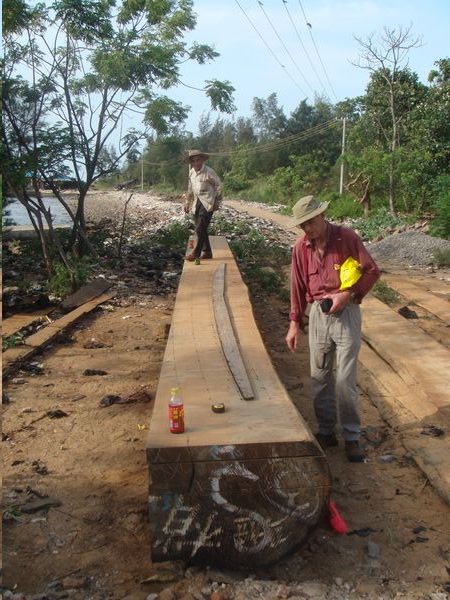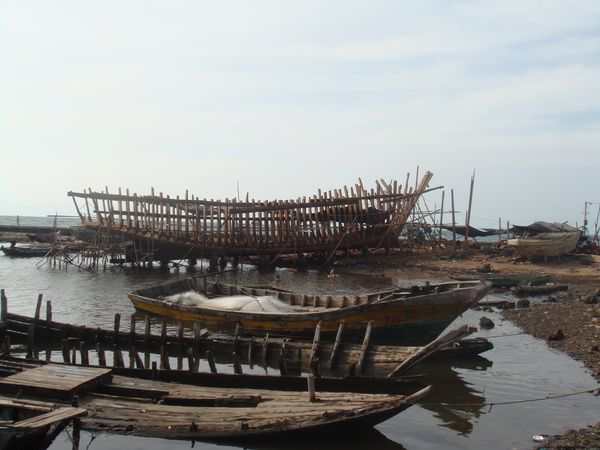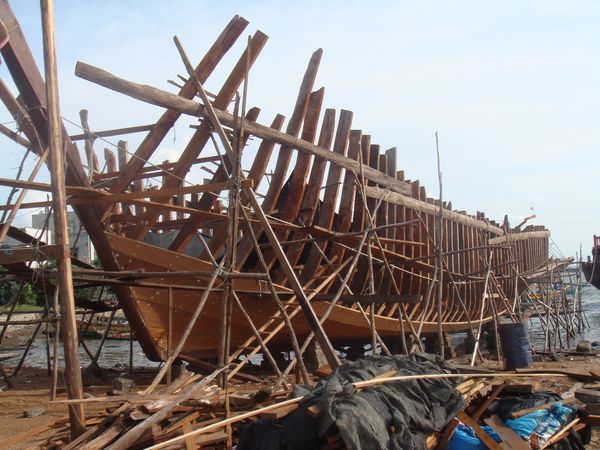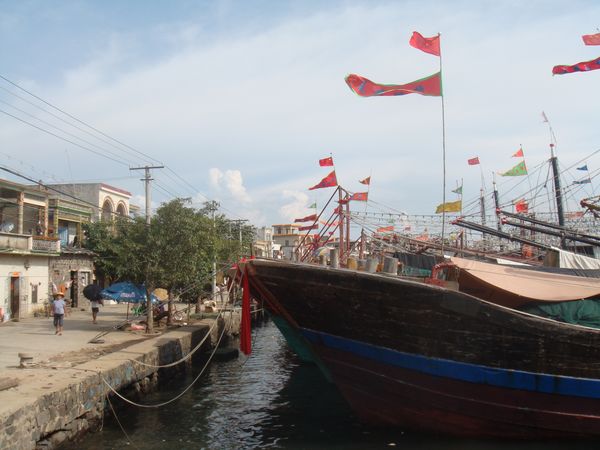 Laocheng Town's Guyizhan Waterfall
Name and location in Chinese: 澄迈老城古驿站瀑布 (Chéngmài Lǎochéng Gǔyìzhàn pùbù).
A while ago I saw some good photos of a waterfall in Chengmai county on the Chinese internet. I happened to be in the area and so decided to see the waterfall in real-life. Most of northern Hainan is flat so waterfalls are scarce.
The waterfall is on the edge of Laocheng Town, which is about 25km west of central Haikou. There is a small river that runs through the town and out to sea. As is common in Hainan, there are few signs to minor attractions like this waterfall, so it is a little hard to find. Furthermore there isn't even a path. A mud track from the road leads most of the way. The waterfall is about 10 metres high and 50 metres wide.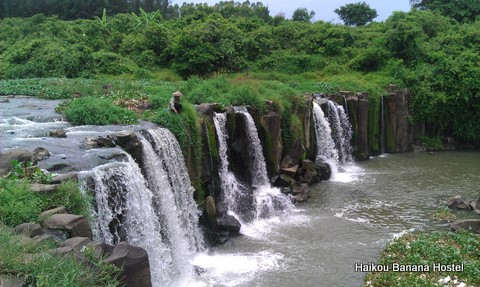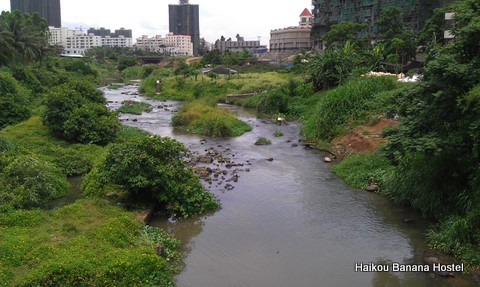 Baisha County
Here are some photos taken in Baisha County along the S310 road.